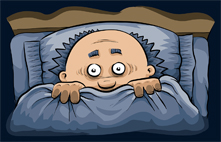 What is your greatest struggle that keeps you awake at night as a nurse educator?
To best serve the needs of nurse educators in 2019 I posted a survey about three weeks ago to answer that very question.
Most educators have at least one fear or challenge. The good news…your struggle is shared by countless others.
This alone does not solve the problem but can provide clarity to see the scope of the current Goliaths that are out there in nursing education today that continue to run rampant and need to be brought down.
Here is a concise summary of the current struggles that educators shared.
What Keeps Educators Up at Night
Two problems stood out by far and are keeping educators from getting the sleep they desperately need:
Engaging students in learning so they are willing and active participants in the learning process
Getting students to think like a nurse
The Next Generation NCLEX® is also keeping many awake; about one-third of nurse educators!
Can you relate?
Classroom Challenges
In the classroom, there were three specific challenges that educators are consistently facing.
This includes:
How to make active learning
Students who expect to be spoonfed content so they know what will be on the test
How to make learning active.
Of these three struggles, there was one that stood out above all the others, experienced by 8 out of 10 classroom faculty…
Student entitlement that includes the expectation to be spoonfed content with a nicely packaged PowerPoint lecture so they know what will be on the test (and not have to read the textbook!)
One More Problem…
Faculty and student incivility is so bad in some programs that it is keeping one-third of faculty awake at night. I too experienced this reality in nursing education and can testify that it made teaching a lot less fun and had the power to steal my joy and passion that I had for teaching.
If you can identify and are experiencing this lived reality, my encouragement to you is to let nothing steal your joy and to continue to persevere in pursuing your passion. Be confident that you are making a difference and are needed right where you are!
Cindy Clark is my hero on this topic who has authored more articles than any other nurse educator on the planet to bring CIVILITY back to academia instead of the poison of incivility.
I heartily recommend her book Creating and Sustaining Civility in Nursing Education!
Clinical Challenges
The clinical setting is not without its unique struggles as well.
The following were the top three challenges educators face:
Students who struggle to put the clinical picture together
Students who struggle to think like a nurse
Faculty who struggle with clinical paperwork that is TMI with written care plans that do not capture the essence of nurse thinking.
Of these struggles the top two challenges that were that were equally shared were:
Students who struggle to put the clinical picture together and think practically like a nurse.
I found it revealing that teaching students to think like a nurse dominated the survey.
The concise statement "think like a nurse" that Chris Tanner coined in her groundbreaking article on clinical judgment back in 2006 is elusive to most students.
But like anything else in nursing education, it needs to be concisely defined, applied and taught.
Quick question…how do you define "thinking like a nurse" and can you concisely define this essential concept that nursing students must understand and be able to demonstrate before they graduate?
If you would like to learn more on this foundational responsibility of nurse educators, I have numerous blogs (see links below) on this topic to help make this concept practical with my practice-based model of clinical reasoning that breaks it down step-by-step (See YouTube below for quick overview!).
The Solution
How do you best prepare students for practice, the NCLEX® and the challenging upcoming Next Generation NCLEX®?
The short answer… implement educational best practice!
This includes making learning active, integrating classroom and clinical realities and emphasizing clinical reasoning (Benner, Sutphen, Leonard, & Day, 2010).
All of the resources available in nursing education (Kaplan, ATI, HESI, etc.) that emphasize repeated student assessment and remediation to improve NCLEX® success will not be as effective unless first, you as the educator do one thing…
Transform the way you teach.
As I look ahead to 2019, and beyond I'm excited to implement numerous changes that address challenges most communicated in this survey. This includes additional tools/resources that emphasize clinical reasoning to empower you to develop nurse thinking with active learning in your class and clinical settings.
Here's what's coming in less than a month to KeithRN:
New Website!
The current site has grown over the last three years, got slow, and needs a facelift and upgrade.
The old site will be gone, and a lean, new and improved rebuild of KeithRN is almost here! It will be much easier to navigate and access the tools including additional case studies to help you get your students practicing the nurse thinking skill of clinical reasoning.
The new website will include the following new features:
Additional case study topics for all specialties including fundamentals, peds, OB, and mental health
Numerous value-priced "essential bundles" for educators. These bundles will include 3 to 5 foundational case studies and practical tools to quickly and easily transform your clinical, classroom, and even simulation!
New types of case studies including a new Next Gen NCLEX® emphasis. Since my dissertation is on improving clinical judgment in nursing students, I have been reading everything available in the current nursing literature on this topic as well as by the NCSBN on Next Gen NCLEX®. I am developing new case studies that will specifically address the type of thinking required to develop clinical judgment to be successful on the upcoming Next Gen NCLEX®.
Social Media
In addition to tools for teaching, educators also shared what they need to learn more about to transform the way they teach.
The following are the top topics educators requested:
How to transform the classroom and avoid death by PowerPoint
How to do clinical differently to help students transfer knowledge to the bedside
How to put content on a diet and eliminate "infobesity" in the curriculum
Though I have numerous case studies and other tools, in response to your feedback, I will focus on these topics in upcoming blogs, have more short teaching on my YouTube channel Think Like a Nurse for nurse educators (and students!) as well as short videos embedded throughout the website.
I will also have video courses available for purchase to help educators get immediate traction if they are teaching in the clinical, classroom or want to tackle infobesity!
In Closing
Transformational change is possible.
All it requires are educators who recognize that the status quo needs to go. Passive lectures that spoon feed adult learners need to stop. Students need to be respected as adult learners and expected to act like one.
Relevant active learning that emphasizes clinical reasoning to practice thinking like a nurse is no longer an option but is educational best practice made practical. Take that next step as you begin a new year.
It is my passion to partner with you by providing innovative tools and resources that help you to teach differently and empower you to do what is needed to take down any Goliath still standing in your program and eliminate the academic practice gap once and for all so your students graduate practice ready and prepared for the NCLEX®!
Related Blogs
What do you think?
What current challenge in nursing education keeps you awake at night?
Comment below and let the conversation begin!
References
Benner, P., Sutphen, M., Leonard, V., & Day, L. (2010). Educating nurses: A call for radical transformation. San Francisco, CA: Jossey-Bass.
Help Your Students Think & Care Like a Nurse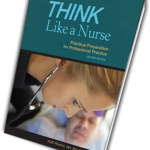 If your students struggle to think like a nurse, this book can help! THINK Like a Nurse: Practical Preparation for Professional Practice has been endorsed by Dr. Patricia Benner and successfully adopted by dozens of programs across the country!
Contact me if you are a nurse educator and would like a faculty eBook preview copy to see for yourself how this text can help your students get practice ready by understanding essential content including pathophysiology and pharmacology!
A Buffet to Practice Nurse Thinking

Get immediate access to time-saving tools that can help you transform the way you teach with my all-inclusive membership for nurse educators.
CLICK HERE to get immediate access to over 80 topics and tools to help your students think more like a nurse! The first month is only $1!
Better yet, get your entire department on board at a dramatic discount. Contact me for a no obligation estimate!
Practical Resource for Educators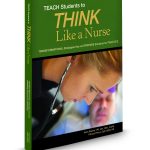 I wrote TEACH Students to THINK Like a Nurse to be a written guide to successfully implement educational best-practice to develop the thinking required for practice and the NCLEX®.
CLICK HERE to see how you can get this book free when you subscribe to my all-inclusive membership for nurse educators!
How to think like a nurse using clinical reasoning