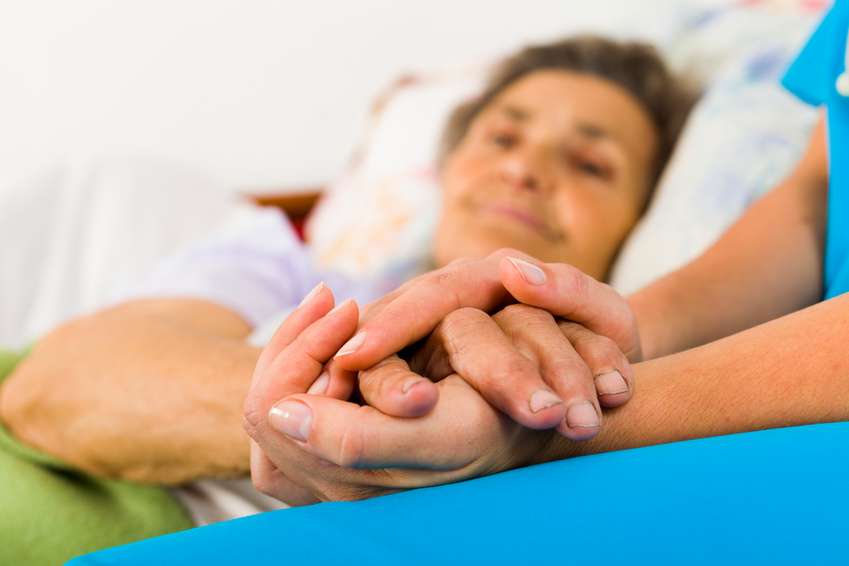 A middle-aged man diagnosed with HIV who was known to be a "frequent flyer," came to the emergency department where I work with a wide variety of physical complaints. But one thing became obvious that influenced his coming to the ED…he wanted to be touched.
He would ask for back rubs because of his aches and pains that he was complaining of.  I took the time to give him a back massage without wearing gloves.
He commented how good it felt and made him feel. Though it was a little thing, it was a big thing to this patient.
I have seen through my lens of current clinical practice that touch, person to person touch remains a fundamental need regardless of the age of the patient.
I have observed that some nurses, especially newer nurses will put on a pair of gloves to assess a patient even when it is not required because of contact precautions or blood and body fluid risk of exposure.
But when the nurse understands the importance of direct human touch and what it communicates to patients, I would encourage you to take off your gloves!
What Personal Touch Communicates
Touch is a fundamental human need and an appropriate intervention that nurses should integrate into their practice. Touch is a positive way to influence the patient's physical environment. It uses nature to impact the patient's well-being. This understanding of touch is consistent with the holistic nursing theories advocated by Florence Nightingale (Bush, 2001).
During times of stress, patients have an increased need for reassuring touch. Merely placing a caregiver's hand on top of a dying patient's head reduced isolation and fear of death (Kubler-Ross, 1970).
Though older adults, especially those with dementia in long-term care settings are receptive and value touch, they are touch-deprived and less likely to receive touch from nurses and other care providers. In addition to communicating caring, touch can also decrease anxiety, lower heart rate, and blood pressure, and reduce cardiac dysrhythmias (Weiss, 1990).
The elderly are most comfortable with the touch of a hand on their arm. Massage is another useful form of touch that has been shown to improve relaxation, relieve tension and anxiety, decreased pain medication, and improved sleep patterns in those who are terminally ill (Carnahan, 1988), but I have seen these same positive results of touch and massage in patients regardless of their diagnosis and need for care.
What Touch Communicates to the "Untouchable"
An example of the power of physical touch to bring healing and acceptance is powerfully demonstrated in the life and ministry of Jesus. He was approached by a leper who desired healing. In the context of this man's lived experience, he was "untouchable" and had never experienced the warmth and acceptance of human touch since he became a leper.
Instead, he heard daily the loud cries of "Unclean! Unclean!" as people moved out of their way to avoid his presence if he left the leper colony.
Recognizing not only his need to be healed, but also his deep unmet emotional need of acceptance that only human touch could communicate, the very FIRST thing that Jesus did before He brought needed healing, was to reach out and TOUCH the man who was "untouchable" and "unclean" (Matthew 8:1–4).
Jesus also demonstrated the power of presence by not running away, but willing to remain present to the leper.
Who is Untouchable in Your Care Setting?
What can nurses learn from this example? Who is "untouchable" and "unclean" today in health care?
What about those with HIV/AIDS, the homeless, or the increasing prevalence of patients who are in various forms of contact precautions that require the nurse to wear a gown and gloves every time they enter the room?
What do you think the patient over time feels in this lived experience? Recognize the power of touch and be sensitive to the needs of those in contact precautions as well as anyone else whose illness has a similar stigma and is considered "untouchable" or "unclean" by cultural norms today.
The use of your personal touch can powerfully communicate caring and acceptance.
Insights of Influential Nurse Leaders on Touch 
Isabel Hampton Robb, who founded the American Nurses Association, the American Journal of Nursing, and what would later become the National League for Nursing, wrote in her student textbook Nursing Ethics (1900) the following at the dawn of the modern era of nursing:
The sense of touch should be rendered a carefully cultivated adjunct to one's work. Sick people are as acutely sensitive in regard to the character of the touch as they are to the quality of voice, and respond to it just in proportion as it conveys to them a sense of skill and gentleness, sympathy and carefulness.

A sensitiveness of touch should be acquired so that one may have one more aid in perceiving quickly even in the dark, any material change in the bodily condition of the patient. It should at all times be gentle, showing sympathy and tenderness soft and magnetic in its power to soothe the nervous restless patient or to allow her to sleep.
Hampton Robb recognized two takeaways of the power of direct human touch:
What it communicates and means to the patient
How essential it is to accurate physical assessment
Gloves should never be worn when doing a simple assessment of a patient who is not on contact precautions for precisely this reason. How can you adequately and accurately assess warmth and the nuances of the patient you are caring for with a physical barrier that inhibits your ability to accurately assess your patient?
Charlotte Aikens who wrote the nursing textbook Studies in Ethics for Nursing in 1926 states:
By touch we may convey to the patient our feeling of sympathy and tenderness, our appreciation of his weakened condition, our desire to be helpful. We reveal our character in our touch.
ACTION Steps

Teach your students the power and relevance of direct human touch and what it communicates to patients to communicate caring and provide authentic holistic care.
If you are currently inclined to wear gloves as an added measure of safety even when not required, keep your gloves off and wear them only when necessary.
Make the heart of nursing which is the "art" of nursing practical and relevant to your students with a unique series of case studies titled Clinical Dilemmas. CLICK HERE to learn more!
Get a Complimentary Case Study!
Students tend to be task oriented and struggle to see the patient as a person and the needs they have to provide holistic care.
Click the button below to get a free case study titled "Anxiety or Spiritual Distress" that makes spiritual/holistic care come alive with a salient scenario derived from my lens of current clinical practice!
In Closing
Hampton Robb (1900) wrote that to become a good trained nurse, development must come from three sides, the hands, the heart, and the head. There is no substitute for direct human contact and skillfully using the heart of nursing when providing care.
Use gloves only when necessary and maintain the human touch in your clinical practice as much as possible and provide holistic care. It will not only communicate caring, more but will enhance the accuracy of the data you collect while performing an assessment.
It is the little things that the nurse does while providing care that are really the big things that matter to the patient. Be willing to do this little thing and your patients, as well as the accuracy of your physical assessment, will be better off as a result!
Relevant Past Blogs 
Comment Question:
What do you teach your students about the importance of physical touch to communicate caring and provide holistic care?
Comment below and let the conversation begin!
References
Aikens, C. (1926). Studies in ethics for nurses. Philadelphia, PA: W.B. Saunders Company.
Bush, E. (2001). The use of human touch to improve the well-being of older adults: A holistic nursing intervention. Journal of Holistic Nursing, (19)3, 256-270.
Carnahan, B. (1988). A gentle touch: Massage therapy for the chronically and terminally ill. Massage Magazine, 14, 18-45.
Hampton Robb, E. (1900). Nursing ethics. Cleveland, OH: E.C. Koeckert.
Kubler-Ross, E. (1970). On death and dying. London: Tavistock.
Weiss, S.J. (1990). Effects of differential touch on nervous system arousal of patients recovering from cardiac disease. Heart & Lung, 19(5). 474-480.
Keith Rischer – Ph.D., RN, CCRN, CEN
As a nurse with over 35 years of experience who remained in practice as an educator, I've witnessed the gap between how nursing is taught and how it is practiced, and I decided to do something about it! Read more…
The Ultimate Solution to Develop Clinical Judgment Skills
KeithRN's Think Like a Nurse Membership
Access exclusive active learning resources for faculty and students, including KeithRN Case Studies, making it your go-to resource.
Sign up to receive a free KeithRN NextGen Case Study!
Develop clinical judgment skills with this innovative new case study on asthma to prepare your students for NextGen NCLEX and practice!