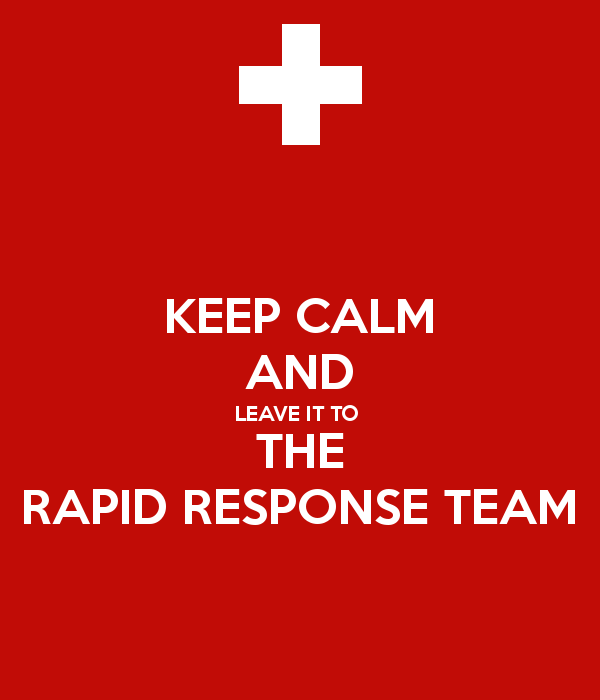 This the 6th and final blog in a series on nursing failure to rescue and what students and nurses need to know to be empowered to recognize a potential problem EARLY and save a life!
When a nurse is caring for a patient in the acute care setting that experiences chest pain, shortness of breath, hypotension, or new neuro changes, this results in a rapid response team (RRT) activation.
Within minutes a specially trained critical care nurse responds to collaborate with the nurse, assess the patient, consult with the primary care provider and implement emergent nursing interventions.
But there is a potential downside to RRT that can limit the professional growth of the bedside nurse. It can inhibit the development of clinical reasoning that is needed (especially with newer nurses) to make correct clinical judgments.
Anatomy of a Rapid Response Team (RRT) Activation
As a critical care float pool nurse who currently works in a large metropolitan hospital, I am assigned intermittently to work rapid response. Nurses in the hospital are encouraged and expected to page an RRT with any concerning change of status or primary complaints such as chest pain or shortness of breath.
Though some nurses have completed a focused assessment of their own before or immediately after an RRT activation, there are some nurses, especially newer nurses who do not take this essential next step.
Failure of the primary nurse to do a concise, but the focused assessment has revealed that a patient who complains of chest pain that resulted in an RRT was epigastric pain consistent with heartburn that was not identified by the primary nurse because no nursing assessment was done.
Here is an example of the dialogue between myself and the primary nurse when I enter the room with some RRT pages:
RRT: What is the concern with your patient?
Primary nurse: My patient is complaining of chest pain.
RRT: Where is the pain located, how does the patient describe it, and what is the pain level on a scale of 1-10?
Primary nurse: I paged a rapid response because they complained of chest pain.
RRT: So did you assess the patient in any way to make a judgment to determine if this pain was consistent with a potential cardiac origin or non-cardiac chest pain?
Primary nurse: I did not since I knew that you would be here shortly.
Do you see what I see?
That for some nurses, they delegate the critical thinking that will strengthen and develop their thinking to the RRT nurse.
Working with newer nurses, I understand this tendency. They are inexperienced and want to follow protocol by paging the RRT and be extremely cautious. Some may not know or are comfortable that with a status change or concerning complaint, they are still the primary nurse and need to embrace this responsibility and take the initiative to do all expected assessments.
But nurses who do not fully own their patients and complete a focused assessment do not fully recognize what is relevant, and interpret this data to establish nursing priorities, and use this opportunity to think like a nurse.
History of Rapid Response
Why were rapid response teams developed in the first place?
It was because of the ongoing problem of avoidable in-hospital patient deaths that include nursing failure to rescue. The Institute of Healthcare Improvement launched a national initiative, "100,000 Lives Campaign" to accomplish this needed objective (McCannon, Schall, Calkins, & Nazem, 2006).
Through evidence-based research, several interventions were found to be effective. One of these was rapid response teams. The primary objective of RRT is to provide timely and appropriate interventions to prevent adverse outcomes by providing a higher level of care in noncritical care areas and facilitating transfer to ICU.
Rapid response teams have evolved and grown and are now a standard of care in acute care settings across the United States and the world.
Real Problem
But what is the real problem?
What is another contributing factor to new nurses being unable to recognize problems early and clinically reason by identifying what clinical data is relevant and why?
Because most students graduate unable to clinically reason at a level of basic proficiency and are not prepared and empowered to apply this essential nurse thinking skill to the bedside where it matters most (Kavanaugh &Szweda, 2017).
The ongoing academic-practice gap or competence gap is also impacting not only students but patient outcomes.
Though RRT is a positive development to improve patient outcomes when a patient is in a crisis, when the bedside nurse recognizes a problem EARLY and rescue begins, this too will positively impact patient outcomes and prevent needless patient deaths.
Prepare Students for Practice
To take necessary steps to strengthen practice readiness in your program, make it a priority to prepare students for real-world clinical practice by integrating and emphasizing clinical reasoning in your class and clinical settings.
Tackle infobesity and emphasize what content is most important because it translates directly to the bedside.
I have created and developed numerous tools and case studies that educators can use to implement a transformational clinical reasoning based curriculum that will complement whatever type of curricular framework your program chooses to utilize.
Collaboration and Teamwork
Another strategy that educators can use to strengthen patient outcomes in a crisis is to make QSEN come alive in your by teaching your students to take full responsibility for their patients. The bedside nurse is never alone but collaborates with the health care team to provide patient care. This includes the rapid response nurse.
A rapid response page becomes a win-win when the primary nurse takes this initiative to both own their patient and collaborate as an equal with RRT. When the RRT nurse arrives to reassess the patient and interpret the data with the bedside nurse and validate his/her judgment and what they think the problem could be, the primary nurses thinking is strengthened. This is the same approach that clinical educators who make it a priority to coach and collaborate with students in the clinical setting.
When the primary nurse does this, they remain actively engaged and develop the reasoning needed for practice and can grow through this required collaboration with RRT in the clinical setting.
ACTION Steps
Teach your students the importance of teamwork and collaboration as it relates to working side-by-side with rapid response as equals in taking responsibility for a patient in potential crisis.
Emphasize clinical reasoning and application of essential knowledge to the bedside in both the class and clinical settings.
 Teach your students what vital signs are most important to recognize a change of status EARLY before it needlessly progresses (see prior blog Why Respirations are the Most Important Vital Sign)
In Closing
Rapid response teams are a positive development in acute care settings that can improve patient outcomes and save lives.
But even in a crisis, reinforce with your students that they are still the primary care provider and must take full responsibility for their care by thoroughly assessing them with any concerning complaint and collaborate as equals with the RRT.
Empower your students and give them the confidence to think more like a nurse by being able to clinically reason by recognizing which patients are a priority because they are at higher risk to develop a complication.
When a problem is recognized EARLY by the primary nurse who has been taught to clinically reason and collaboration with rapid response takes place, this is the win-win combination that will improve patient outcomes and allow the primary nurse to develop and strengthen clinical thinking to develop and progress as a professional nurse.
Comment Question:
Do you teach your students the importance of collaboration with the healthcare team including RRT?
Comment below and let the conversation begin!
Relevant Past Blogs 
References

Kavanagh, J. & Szweda, C. (2017). A crisis in competency: The strategic and ethical imperative to assessing new graduate nurses' clinical reasoning. Nursing Education Perspectives, 38(2), 57-61.
McCannon, C.J., Scall, M.W., Calkins, D.R., & Nazem, A.G. (2006). Quality improvement-Saving 100,000 lives in US hospotals, British Journal of Medicine, 332, 1330-32.
Keith Rischer – Ph.D., RN, CCRN, CEN
As a nurse with over 35 years of experience who remained in practice as an educator, I've witnessed the gap between how nursing is taught and how it is practiced, and I decided to do something about it! Read more…
The Ultimate Solution to Develop Clinical Judgment Skills
KeithRN's Think Like a Nurse Membership
Access exclusive active learning resources for faculty and students, including KeithRN Case Studies, making it your go-to resource.
Sign up to receive a free KeithRN NextGen Case Study!
Develop clinical judgment skills with this innovative new case study on asthma to prepare your students for NextGen NCLEX and practice!