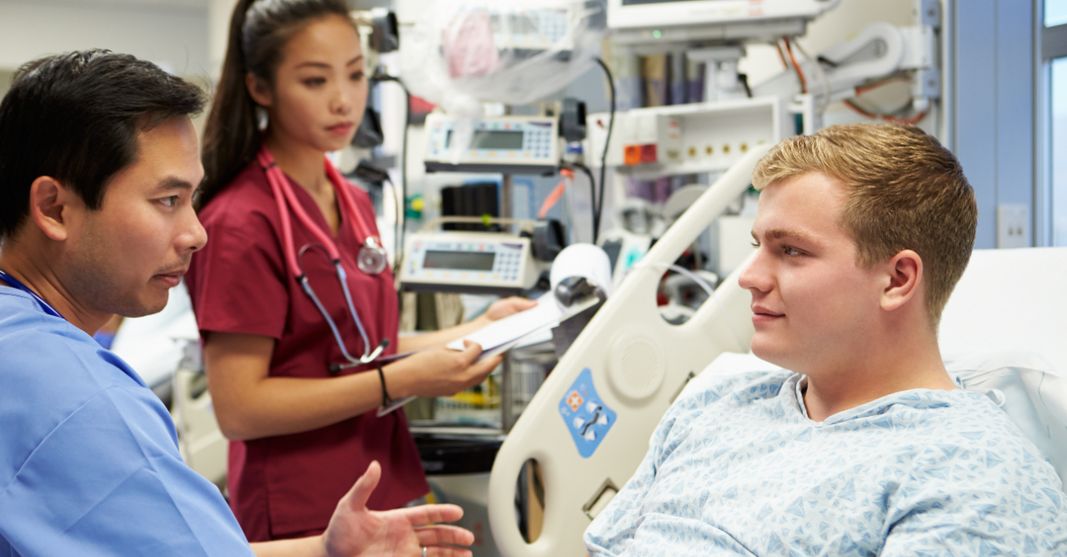 For as long as formal nursing education has existed, one of the central questions on the minds of educators has likely been, "Why did I agree to do this?!"
Teaching the next generation of professional nurses is a challenge, and often a harder path than clinical practice. Yet, it has rewards that you will find nowhere else!
But to better prepare students for practice, the one question every nurse educator must reflect on and ask is:
"How can we best prepare our students for the real world of nursing practice?"
We want our students to be successful, we want them to love what they do as much as we do, and we want their patients to receive the safest, highest-quality nursing care possible.
So instead of putting practice first, as educators, we give our students mountains of written clinical paperwork so that we can visually ensure they grasp the concepts we need them to understand to be safe nursing professionals.
Then we spend hours of our time we don't have with our red pens making notes and clarifying ideas so we can do it all again the following week until we have beautifully written, theoretically sound clinical care plans at the end of the clinical rotation. Sound familiar?
But there is a problem with this current paradigm. Because this is an academic activity, students cannot take that shiny, unmarked care plan they've painstakingly written and apply what they've learned to help a patient.
The literature supports the ongoing severity of this problem, attributing impaired patient safety and poor role performance amongst new nurses to this "theory-practice" gap (Saifan et al., 2021).
So the question then becomes, how do we take the critical thinking that consists of understanding essential content that students learn in the classroom, blend that with clinical reasoning or the thinking in action that takes place in clinical while providing patient care, and end up with the outcome of sound clinical judgment?
Many of us fall back on what we learned and did in nursing school. That means paperwork. That means LOTS of paperwork. But in my experience, and the experience of my fellow faculty members at Mid Michigan College, that results in students who are proficient with paperwork.
That made me think…
"If we need nursing students to think, act, and safely care for patients, why aren't we grading them on those elements instead of how well they can put together a written assignment?"
A (not so) Big Idea
I had an epiphany three years ago when I moved from Adult Health 1 (beginning med-surg) to Foundations as the lead faculty, took one look at the 17 page weekly clinical paperwork, and thought, "…oh dear." How will my students have time to do anything meaningful in the clinical setting when they're focused on working through this behemoth?
Answer: they won't. Paperwork alone will not prepare students for practice.
I did the only thing that seemed rational; I threw the whole thing out and started from scratch.
Moving Forward
The first step was to identify my goals for clinical education in semester 1. As I am fond of telling my students, "you can't chart a course if you don't know your destination, because you never drift to your destination. It takes effort and initiative."
So I asked myself:
What is essential for my students to know?
What do my students need to do?
How can I determine if the students met clinical outcomes?
Once I answered these questions, I devised a four page worksheet for my Foundations students focused on helping them critically think about their actual patient in real-time, not 48 hours after the fact.
The main ideas of clinical worksheets include:
What do your labs, meds, H&P, vitals, and assessments tell you about your patient?
What concerns do you have based on this data? Should you be alert for any specific complications?
What treatments, procedures, and nursing care tasks are currently in place for your patient? How do they address the patient's problems?
Answering these questions and completing four pages of clinical worksheets should be a partnership between the instructor and the student, not something that the instructor looks at later on their own to mark up.
TAKE ACTION
To see how you can develop essential clinical judgment skills, Download the 4 p. clinical worksheet I developed. You have my consent to adapt but please include my copyright.
Ongoing Dialogue
Ongoing dialogue and exchange of ideas are critical and must be a priority. Adjunct instructors and I round on students frequently and regularly throughout the clinical day, spending 10 – 15 minutes with each student during each round.
Because I have repeated exposure to their thinking and observed performance, evaluation is done by answering these questions:
Did my students demonstrate the knowledge that was determined essentially?
Did my students perform patient care in a way that demonstrated sound clinical judgment?
During the aforementioned "rounds," instructors give regular, timely feedback to the students throughout the day on their performance in each category and summarize at the end of the day.
Post-conference is used for debriefing, clarifying themes and ideas, and beginning to prioritize patients based on acuity and needs.
Socratic questioning is used throughout the clinical day, enhancing the students' critical thinking and clinical reasoning abilities. These ideas continue in each subsequent class, starting with four pages of "work" in Foundations and decreasing to zero in the fourth semester.
In the following semester, students progress to Adult Health 1, where their paperwork reduces by a page and their focus on performance increases. For the semester's last two weeks, paperwork is dropped entirely, and an oral care plan using Tanner's Clinical Judgment Model to guide Socratic questioning is used instead.
The third semester is Adult Health 2, where paperwork is decreased to roughly two pages for the first four weeks. The second half of the semester is oral, prepping the students for their transition to Adult Health 3, where paperwork is dropped. The students are also given a "charge nurse" role for one week, where they practice:
Prioritizing their peers' patients based on acuity (this includes determining which patients should get medications, treatments, and assessments first, second, etc.)
Assisting their peers in ensuring they are ready for medication pass before the instructor going into the room with the students (labs, interactions, assessment data, vitals, are all complete and accurate based on the requirements of the individual medications and all supplies are gathered)
Helping their peers, as well as other nurses and floor staff, in all aspects of patient care
The faculty has worked diligently with one another to streamline the clinical experience from semester to semester, introducing the students to themes, questioning styles, and patterns from day one that continue throughout the program. The response to this has been overwhelmingly positive from students and instructors alike.
KEY TAKEAWAY
Students are graded on their actual performance, in real-time, based on their care of their patients, just like they will be when they are practicing nurses.
PAUSE & REFLECT
To apply this practice-based paradigm of clinical in your program, reflect, then answer these two questions:
Are my students graded on their ability to fill out paperwork or on their clinical performance?
How does my current clinical paperwork help prepare my students for real-world nursing?
Closing Thoughts
The way things have always been done isn't working. There is a current crisis in new graduate competency. In 2017, only 23 percent of new nurses, all who passed NCLEX possessed entry-level clinical judgment (Kavanaugh & Szweda, 2017). In a follow-up study, entry-level clinical judgment was possessed by only 9% (Kavanaugh & Sharpnack, 2021).
When graduate nurses do not possess the practice-related decision-making skills of noticing what is most important and understanding what this data means, it leads to adverse outcomes including patient death.
As gatekeepers of the profession, we have a moral and ethical imperative to turn these numbers around. By making bold, innovative changes that put preparing students for practice first, we can be part of the needed change and help the next generation of nurses successfully transition to real-world practice!
References
Kavanagh, J. & Szweda, J. (2017). A crisis in competency: The strategic and ethical imperative to assessing new graduate nurses' clinical reasoning. Nursing Education Perspectives 38(2), 57-62.
Kavanagh, J.M., Sharpnack, P.A., (January 31, 2021) "Crisis in Competency: A Defining Moment in Nursing Education" OJIN: The Online Journal of Issues in Nursing Vol. 26, No. 1, Manuscript 2.
Saifan, A., Devadas, B., Daradkeh, F., Abdel-Fattah, H., Aljabery, M., & Michael, L. (2021). Solutions to bridge the theory-practice gap in nursing education in UAE: a qualitative study. BMC Medical Education, 490(21). https://doi.org/10.1186/s12909-021-02919-x
Brooklyne Sniegocki, MSN, RN
Teaches Foundation content to ADN students at Mid Michigan College. She began her career as a nurse in 2011 working on the cardiac step down unit, and has also worked in Home Health Care/Hospice and the general Post-Surgical Unit.
She was a clinical educator in various programs which gave her exposure to various clinical instruction models which contributed to her classroom and clinical redesign process, detailed in today's blog.
Questions? Contact Brooklyne: bksniegocki@midmich.edu
The Ultimate Solution to Develop Clinical Judgment Skills
KeithRN's Think Like a Nurse Membership
Access exclusive active learning resources for faculty and students, including KeithRN Case Studies, making it your go-to resource.
Sign up to receive a free KeithRN NextGen Case Study!
Develop clinical judgment skills with this innovative new case study on asthma to prepare your students for NextGen NCLEX and practice!