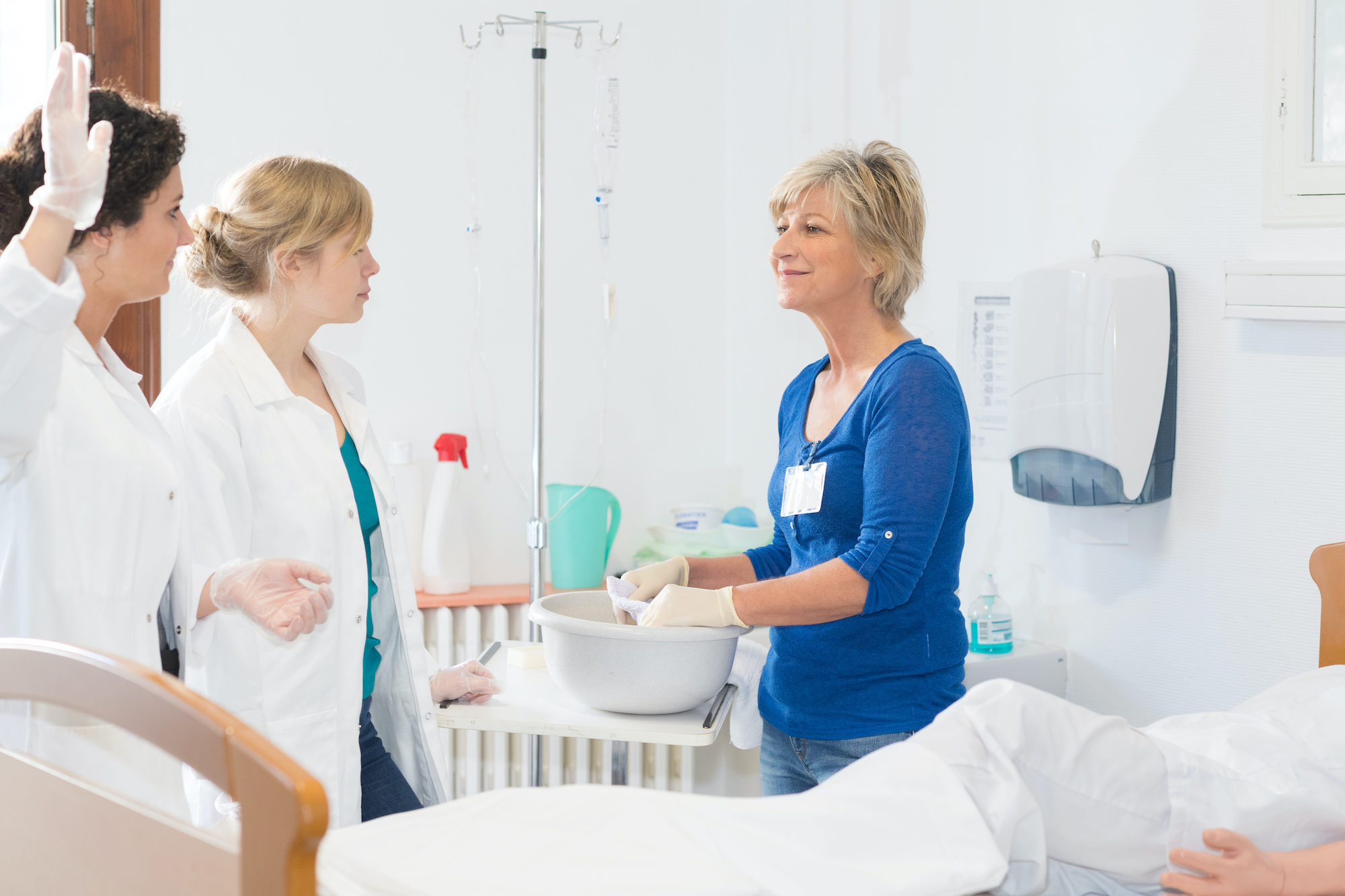 How can a nurse educator read a student's mind? Ask the right questions! You can strengthen clinical learning by incorporating evidence-based questions in clinical paperwork and in your practice as an educator.
Effectiveness of traditional apprenticeship models used in undergraduate nursing education has been questioned in the literature for over 50 years. Leighton's systematic review aimed to examine best evidence available upon which to base decisions regarding use of traditional clinical experience with prelicensure nursing students.
No sufficient evidence was found to support traditional clinical models. The scope of nursing practice and patient complexity requires higher order thinking skills, ability to prioritize, and leadership in interdisciplinary care environments. This review raises serious concerns about how nurse educators assess learning in traditional clinical environments.
This is an opportunity to develop rigorous studies to develop new knowledge on effective clinical models to strengthen student learning and connect knowledge to practice by developing competency-based education.
Teaching Clinical Reasoning in the Clinical
Lisa Gonzalez developed a concept-based clinical reasoning teaching method with weekly themes, lessons, and learning activities adapted from Tanner's clinical judgment model and Lasater's Clinical Judgment Rubric.
Teaching Clinical Reasoning Piece by Piece: A Clinical Reasoning Concept-Based Learning Method offers an organized, consistent approach to teaching and learning clinical reasoning, with multiple opportunities for student reflection, instructor guidance, and discussing clinical reasoning concepts. 
Clinical education became transformed for both the nurse educator and nursing students as clinical reasoning became a visible part of students' budding nursing practice.
Integrating clinical reasoning skills weekly through Gonzalez's Model
Each week had an emphasis w/activities

Documentation/EMR navigation

Noticing skills

Clustering cues/pattern recognition

Connecting assessment data to nursing priority/plan of care

Problem recognition

Prioritization skills

Acceptable ambiguity

Put it all together
Clinical Reasoning Skills/Competencies
Noticing skills:
Notices significant or relevant clinical data

Distinguishes between clinical data that is expected and unexpected

Systematically review the medical record

Perform thorough focused assessment
Questions to ask students to develop NOTICING skills:
In one sentence, concisely describe the essence of your patient's story?

What is the current medical diagnosis of your patient? 

Summarize the pathophysiology of this diagnosis in your

own

words.

What clinical data do you notice that is relevant?
Interpreting skills
Determine meaning of relevant clinical data

TREND data to identify direction

Clusters data to determine patterns

Determine acceptable ambiguity of clinical data
Questions to ask students to develop INTERPRETING skills:
What is the clinical significance of relevant clinical data?

What is the

trend

of relevant clinical data?

Do trends suggest status is improving, worsening, no change?

What clinical data have a relationship that can be clustered together?

What additional clinical data is needed to identify the current problem?
What questions do you have on developing clinical judgement in the clinical? What do you need to know to have clarity to confidently teach it? Leave your questions in the comments below!
Watch the video below to learn more best practices for developing clinical judgment in the clinical!
Keith Rischer – Ph.D., RN, CCRN, CEN
As a nurse with over 35 years of experience who remained in practice as an educator, I've witnessed the gap between how nursing is taught and how it is practiced, and I decided to do something about it! Read more…
The Ultimate Solution to Develop Clinical Judgment Skills
KeithRN's Think Like a Nurse Membership
Access exclusive active learning resources for faculty and students, including KeithRN Case Studies, making it your go-to resource.
Sign up to receive a free KeithRN NextGen Case Study!
Develop clinical judgment skills with this innovative new case study on asthma to prepare your students for NextGen NCLEX and practice!