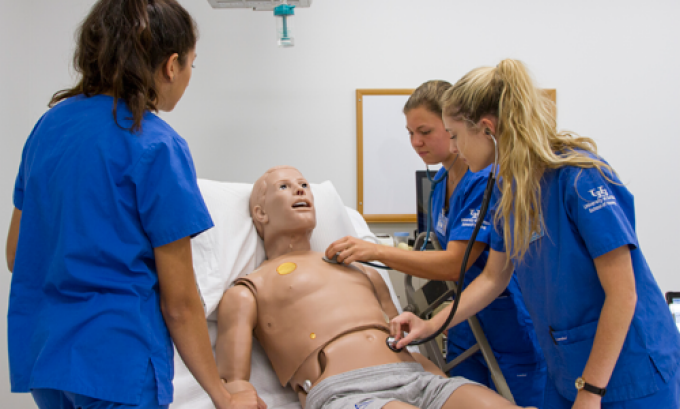 As a PhD student in the third quarter at William Carey University, I am digging deep into the literature for chapter II of my dissertation which is a comprehensive review of the literature across all health-related disciplines.
This is the research question that is guiding my lit review:
"In fourth-semester baccalaureate nursing students, how effective are unfolding case studies that emphasize clinical reasoning compared with traditional instruction to develop critical thinking and clinical reasoning to improve clinical judgment?"
Using the search words of case studies and clinical reasoning, critical thinking and clinical judgment I have identified only 20 relevant articles that compare traditional classroom lecture with case studies and its effect on critical thinking, clinical reasoning or clinical judgment.
The essence of my planned research is to utilize a pretest-posttest experimental study design to assess the effect of case studies (low-fidelity simulation) on the development of critical thinking and clinical judgment over a semester then using valid and reliable tools that can quantitatively measure these constructs. A current gap in the literature exists because this study and emphasis have not yet been done.
Low Fidelity vs High Fidelity Simulation
As I was reviewing numerous articles, one caught my eye that is indirectly related to my topic: Evaluating the impact of high and low fidelity instruction in the development of auscultation skills (Chen, Grierson, & Norman, 2015).
The purpose of this study was to explore the effectiveness of high fidelity versus low fidelity simulation when senior-level nursing students were taught advanced cardiac and respiratory auscultation skills.
Students were randomized into three groups, n=21 who experienced high fidelity simulation that included a high fidelity mannequin and simulated environment to listen and learn these clinical skills, n=23 who experienced low fidelity instruction by keeping it simple and only listening to abnormal respiratory and cardiac sounds on a computer with headphones, and a control group of n=16 who received neither intervention.
Was High Fidelity Better?
Students in the low fidelity group had statistically higher (P<0.001) cardiac and respiratory test scores when tested out by faculty in comparison to the high fidelity and control groups.
Understanding Cognitive Load
A common assumption is that the more closely simulated the simulation to the real world environment the more effective learning will be. Other studies have demonstrated that high fidelity learning environments do not consistently demonstrate improved learning outcomes.
To strengthen and transform nursing education assumptions need to be validated by research and not by assumption alone. To put these unexpected findings in context cognitive load theory can help explain these findings.
This same theory of learning also captures the essence of why TMI or infobesity in the curriculum is an impediment to student learning.
Cognitive load theory recognizes that there are three distinct load variables or only so much information the brain can remember and process in working memory which is very limited in comparison to long-term memory. These load variables are:
Intrinsic cognitive load. This load on the brain is due to the defined learning goal or task and includes the complexity of what needs to be done.
Extraneous cognitive load. This results from the format of instruction that is extraneous or not necessary for teaching. As a result, it causes a greater cognitive processing burden on the students working memory.
Germane cognitive load. This describes the generation of brain processing that helps a student understand what is taught and promotes retention in long-term memory.
To teach effectively the educator must be aware of the need to decrease extraneous cognitive load by removing anything that might distract from the focus of teaching.
Cognitive load theory assumes an additive model for each of these three variables and cognitive overload and ineffective learning will result when the sum of these variables exceeds the capacity of the brains working memory.
Increasing complexity by situating the instruction in high fidelity context may contribute to higher levels of extraneous cognitive load. Therefore it is possible that high fidelity learning which is designed to increase realism may hinder learning instead because the student is required to process multiple sensory stimuli that if unnecessary to learning may make understanding less effective.
Highly contextualized or high fidelity learning environments may adversely impact the learning of nursing students because of the increase in extraneous cognitive load. Decreasing extraneous cognitive load by simplifying learning appears to improve learning which the findings of this study did validate.
Takeaways for Educators
Educators need to determine the primary objective of the student learning outcome to apply the findings of this study to academic practice.
If the primary outcome requires putting the big picture of patient care together and simulating as closely as possible the clinical environment then high fidelity simulation remains the best approach for instruction.
In this study, the student learning outcome was to correctly identify and differentiate different types of breath sounds and heart sounds. This outcome could be met by using either a low fidelity environment such as listening to heart sounds on a computer and did not require a complex high fidelity simulation by listening to respiratory and cardiac sounds on a high fidelity mannequin.
In this case going low fidelity was best to strengthen student learning.
Closing Thoughts
Reflect and determine how high fidelity simulation is used in your program? Is it being used to contextualize and make complex the clinical learning environment when the student learning outcome does not require that level of complexity?
If so, consider other low fidelity approaches to accomplish the same outcome. Though it cannot be directly inferred from this study design, cognitive load theory when understood and applied to student learning may explain how other forms of low fidelity simulation including case studies and problem-based learning may be as effective or even more effective to develop the thinking that students require for practice and passing the licensure examination.
I will share additional studies in the weeks ahead that may surprise and even challenge your assumptions on how to most effectively teach a practice-based profession such as nursing!
Just curious but what has been your observation of student performance with high fidelity simulation? Does your experience confirm or challenge the findings of the study?
Learn More about Cognitive Load Theory
References
Chen, R., Grierson, L. E., & Norman, G. R. (2015). Evaluating the impact of high- and low-fidelity instruction in the development of auscultation skills. Medical Education. https://doi.org/10.1111/medu.12653
Keith Rischer – Ph.D., RN, CCRN, CEN
As a nurse with over 35 years of experience who remained in practice as an educator, I've witnessed the gap between how nursing is taught and how it is practiced, and I decided to do something about it! Read more…
The Ultimate Solution to Develop Clinical Judgment Skills
KeithRN's Think Like a Nurse Membership
Access exclusive active learning resources for faculty and students, including KeithRN Case Studies, making it your go-to resource.
Sign up to receive a free KeithRN NextGen Case Study!
Develop clinical judgment skills with this innovative new case study on asthma to prepare your students for NextGen NCLEX and practice!