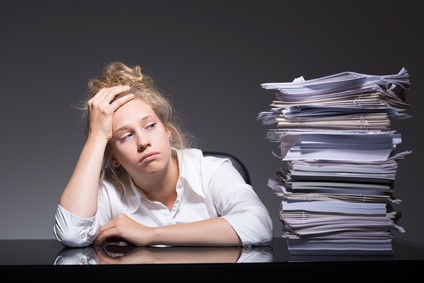 When I began my journey as a professional nurse fresh out of high school over thirty years ago, I had no idea how difficult nursing education was going to be.
Though I knew it was a difficult major, I struggled. Each semester felt like a real world version of "Survivor". Our two year program started with 140 students and only 80 graduated two years later.
As I look back at this experience, there a few things I wish I had been told in orientation or at the beginning of the program to help me be successful and better balanced as a student.
I would like to share three principles that will help any student be better balanced and successful and help them THRIVE as for many a new school year has or is about to begin!
#1. Have Realistic Expectations
I have observed that nursing students as a whole are driven, perfectionistic, and used to getting A's in high school or college.
Nursing is typically the most difficult major on most college campuses and is not a program that students can simply attend class and expect to pass like they may be used to doing. Students must plan on at least 20 hours a week studying.
Even A students may struggle to maintain this level of academic achievement and need to accept this reality as their new normal. Encourage your students to NOT obsess about the letter grade (unless they are failing!) but instead focus on content mastery and using knowledge. This is what matters most!
Remind students that their letter grade does not define their value and worth as a person or student. Nor is it a predictor of whether you will be successful as a nurse in practice. I believe that your true identity, value, and worth is defined by God and His unconditional love for you, not by your performance.
#2. Don't Do It Alone
Resist the temptation to do it alone and they will be one step ahead. It is the wise student who seeks supportive and collaborative relationships with family, friends, and other nursing students!
In order to counter the inevitable stress of nursing education, students need to invest limited time cultivating connection to others, especially student colleagues, NOT social media.
Most Facebook friends are a mirage that will not be there for you when you need them most!
The relevance of this principle was validated over 2,500 years ago in the book of Ecclesiastes written by one of the wisest men who lived, King Solomon who also wrote the book of Proverbs in the Old Testament:
"Two are better than one…For if they fall, one will lift up his fellow. But woe to him who is alone when he falls and has not another to lift him up!" Ecclesiastes 4:9–10
#3. Take Care of Yourself!
To maintain a healthy balance and to prevent burnout in practice, nursing students must recognize the value of self-care. This must start while they are a student!
Though school will consume them with new challenges and additional learning, some students need to be given permission to NOT let nursing education become their life!
Encourage students to resist the "tyranny of the urgent" or the tendency to allow ones life to be dictated by the pressing "urgent" aspects of nursing school.
Do not neglect those things that are really more important (faith, family, relationships) simply because they do not demand your immediate attention.
The perpetual "gerbil wheel"with its incessant, ongoing demands requires students to be fully aware of the need to renew their body, mind, and spirit.
If your "tank" of personal renewal is empty or dangerously low, this will directly affect your ability to be fully engaged and caring in practice.
Because of high levels of stress while in nursing school, students are at a higher risk of developing physical and even mental illness!
Managing stress effectively is not an option as a student or nurse in practice.Here are specific strategies to encourage self-care:
Personal Lifestyle Strategies
Obtain adequate sleep. The magic number is SEVEN hours of sleep minimum every night. Adequate amounts of sleep are the easiest way to prevent emotional and physical exhaustion.
Eat healthy. The common saying "Garbage in, garbage out" certainly has relevance here!
Engage in regular physical activity. Thirty minutes of sustained activity three to five times a week reduces stress. For those who have exercise aversion, a brisk walk is just as effective. Look up the pathophysiology of endorphins and the secondary benefits this provides as well!
Identify what is MOST important in life and make time for it. I readily identify with students who are highly driven and task/goal oriented and who struggle to achieve balance. Though successfully completing nursing education is important, spouses, children, and friendships require QUANTITY time, not just quality, to thrive and survive the rigors of nursing school and practice.
Nurture your spirituality. In addition to cultivating your spiritual life for balance and purpose in life, spirituality has relevance to patient care as a nurse. In order to provide meaningful spiritual care in the clinical setting, you must personally cultivate this in your own life.
Participate in outside interests. It's tempting to keep the pedal to the metal and make nursing school your life. Although it is important to be committed and serious about your education, you must also remember the importance of BALANCE.
Recognize your limitations. Don't push yourself to the brink of exhaustion to pursue perfection as a student.
Professional/Educational Lifestyle Strategies:
Set realistic goals. Recognize the difficulty of the nursing major, and readjust your GPA goal to reflect this reality and "new normal."
Grieve well. You should never remain oblivious or indifferent to the pain and suffering of patients you will encounter in practice. Remain empathetic, but realize the need for support when grief or painful feelings need to be addressed.
Take breaks as needed. Make time for rest, hobbies, relationships, faith, and any other interests that are important to you. Nursing students tend to be highly driven, and need to be reminded that what comes naturally may not benefit them in practice. I have found the book Margin: Restoring Emotional, Physical, Financial, and Time Reserves to Overloaded Lives a helpful book in this ongoing battle for balance!
Student Feedback
I recently received an email from Natalie, a student at Azusa Pacific University in California whose program adopted my book. She shared at length how the content from my book that is in today's blog impacted her life:
"Your emphasis on balance cannot be over-emphasized! You helped me recognize the epiphany of my own burn-out and realize a plan of action.  I am firm believer that God is in control and makes things happen at just the right time (Ecclesiastes 3:1-8).  I was meant to re-visit your book at this time in my life so I could heal."

In Closing
There are many other students like Natalie in your program. Some put on a strong front, but others are clearly struggling.
Make sure that these timeless principles are discussed and reflected upon in your program so that students can fight and seek for needed balance before it becomes a crisis.
Remind your students that life is fragile. No one has tomorrow guaranteed.
Therefore, NOW is the time to pursue balance, invest in meaningful relationships with others and pursue realistic expectations so that both educators and students can THRIVE, not merely survive this school year!
What do you think?
What do you share with your students to help them THRIVE while in nursing education? What do you do as an educator to maintain needed balance?
Comment below and let the conversation begin!
Want More?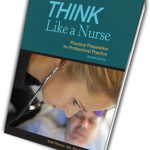 Today's blog was derived in part from chapter two :How to THRIVE, not Merely survive as a Nursing Student from my new student text THINK Like a Nurse: Practical Preparation for Professional Practice.
See for yourself why programs around the country have adopted this text in their programs! Contact me if you would like a faculty eBook preview copy. All you need to do is ask!
New YouTube on Incivility!
I just posted a relevant YouTube on HOW to Directly and Respectfully Address Incivility in Nursing.
I share a tool from the nursing literature that every student and educator must utilize to share BEFORE students graduate!