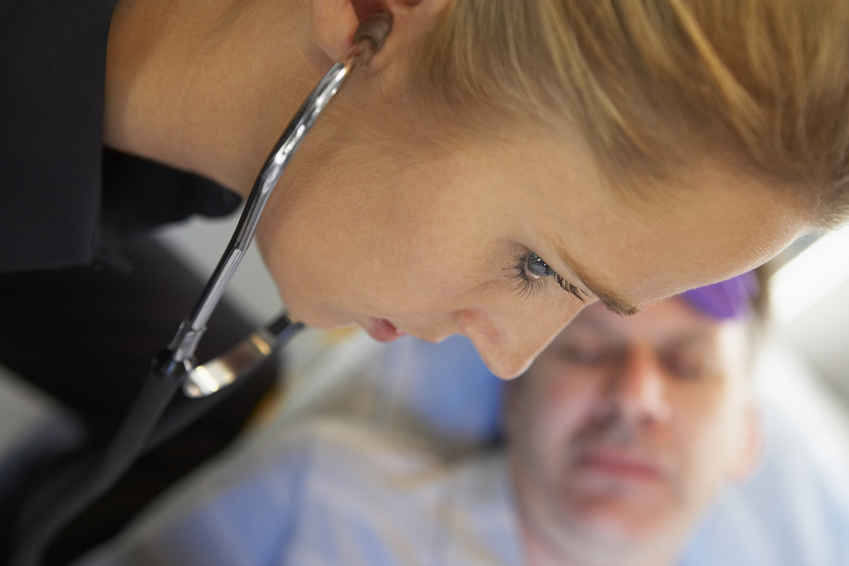 Student learning in the clinical setting is where the "rubber meets the road" in nursing education. Classroom grades mean little if classroom content knowledge cannot be readily applied to the bedside.
Clinical learning is extremely stressful for novice student nurses, who are overwhelmed by not only the amount of content knowledge in the classroom that must be known, but also the volume of information in a patient's chart.
Because of a lack of experience, novice nurses tend to see everything in the chart as equally relevant.
This was my top blog of 2015 and is worth another look to strengthen your effectiveness as a nurse educator in the clinical setting for 2016 and beyond!
---
Give a student three hours to prepare for clinicals, and most will spend all 180 minutes reviewing the chart to make sure they did not miss anything.
Therefore, it is imperative that clinical faculty so all that is possible to simplify clinical learning and make DEEP learning of what is most important in that specific clinical setting a priority in ORIENTATION.
Last week I discussed three strategies to deepen student learning of the most important content in the classroom. Today I will use the same principle to DEEPEN student learning in the clinical setting.
Deep Learning BEFORE the First Clinical
As a clinical educator the past several years, the orientation of a new clinical group is a unique experience. Each clinical group is distinct with their own unique personality, but one thing is constant…student anxiety!
Though this is typical and expected, high levels of stress and anxiety are also a barrier to student learning.
It is the wise nurse educator who makes it a priority to do everything possible to decrease student anxiety, not only in orientation but throughout the entire clinical rotation. One practical way to accomplish this needed objective is to prepare students for each new clinical rotation by identifying the most common medications, laboratory values, medical problems, and most common complications to anticipate.
When this MOST important content for each clinical setting is identified and shared with the students in orientation it will accomplish two essential objectives:
Decrease student anxiety by identifying what CONTENT is MOST important so application of content can be facilitated.
Provide DEEP learning of what is MOST important to that clinical setting.
The following four steps can accomplish these essential objectives in clinical education by simply answering the following four questions for your students:
Step 1: What are the top 10-15 medications most commonly used?
Primary care providers are creatures of habit. Though there are over 5,000 medications in a drug handbook, if a nurse has a DEEP understanding of around 100 medications they will be well prepared for clinical practice after graduation.
Make it a priority to identify for your students what these most commonly used medications are, and expect them to know what is MOST important about these medications (mechanism of action in own words!).
I also wrote a recent blog on how to deepen student learning by asking "what questions" related to medications.
Step 2: What are the 5-10 lab values most relevant?
Though any med/surg clinical area has no shortage of lab panels with 10-15 labs per panel, clarify for students that not every lab on the most common panels are equally important to nurses.
For example on a basic metabolic panel (BMP) there are typically 10 chemistries, but from my perspective, the MOST important labs for a nurse to focus on are the sodium, potassium, and creatinine. The rest are typically not nearly as relevant to the nurse.
In order to assess student mastery of fluids and electrolytes, ask your clinical group WHY sodium, potassium, and creatinine are most important and how it relates to physiologic functioning and homeostasis. Then you will know if they really have mastered this content or not!
Do the same thing with a CBC, LFT, or other lab panels commonly seen in your clinical area. Just as it is with content, students will obtain a superficial level of mastery when TMI is experienced in the clinical setting and EVERY component in a lab in panel must be deeply known.
Focus on the most important labs in panels such as the WBC, neutrophil %, Hgb. and Hct. on a CBC, the total bili, ALT, AST in a LFT etc.
Use your lens of clinical practice to identify what labs are most important and student mastery will be increased!
See my past blog on this topic to review this important content.
Step 3: What are the 3-5  most common medical/surgical presentations?
Most units have a specialized emphasis of what type of patients are there to receive care. Identify the most common medical or surgical patients so students can review this content before the very first clinical. This will DEEPEN student learning two ways.
Provide needed review of the textbook content. Emphasize the importance of student understanding of the pathophysiogy of the primary problem of every patient they care for. When this is truly understood, the most relevant labs to identify and then TREND will be recognized as well as nursing priorities and even most common complications.
Having read the textbook or a professional website (Medscape is my personal favorite!) students will then be able to compare/contrast the textbook knowledge and presentation with how their patient actually presented. This will provide the essential lesson that novice nurses struggle with…that NOT every patient will present with textbook symptoms, but it is actually quite common to have variances. To see this demonstrated by their patients will provide needed "aha" moments in practice!
Step 4: What are the 3 most common complications?
Never forget to remind your students that "Jason is still out there!" (remember Friday the 13th!…See my blog on this topic for more background!). Teach your students to be PROACTIVE by anticipating the most common complications as well as EARLY signs to recognize a problem before it is too late.
By identifying the most common complications, you will encourage nurse vigilance and prevent "failure to rescue" which will ensure safety in practice.
Go Global!
Though any clinical instructor can initiate these simple strategies to deepen student learning in their clinical setting, I want to encourage clinical faculty to see the big picture of their program and level clinical content of what is most important in each rotation at a program level.
For example, the following are typical clinical rotations in most programs:
Fundamentals
Basic med/surg
Advanced med/surg
OB
Peds
Mental health
If each clinical rotation identified the most important medications (10-15 each) and labs (5-10), by the end of the nursing program, students would have a DEEP mastery and understanding of 90-100 medications and 30-60 labs! In addition, this content knowledge would be validated and supported by what they have seen in practice and will have contextualized this essential content.
This DEEP mastery of pharmacology and lab values will also translate to content students must know for the NCLEX®.
In Closing…
DEEP learning of what is MOST important.
If every nurse educator adopted this philosophy to classroom and clinical learning, a huge step to transform nursing education would be realized.
Just as a wise ancient Chinese philosopher made the observation that a journey of a thousand miles begins with the FIRST step, make it a priority to implement this essential first step to deepen student learning by  mastering what is most important to clinical practice in your clinical setting today.
Comment question:
What strategies have you found successful to deepen student learning of what is most important in the clinical setting?
Comment below and let the conversation begin!
What's New and Coming Soon!
New Case Studies
To better serve your needs in nursing education, creating numerous new topics of clinical reasoning case studies is a priority of mine for 2016!
I am putting my money where my mouth is and have just added the following five specialty topics to my site!
Go to my Clinical Reasoning Case Studies tab for more info:
Peds-Acute Lymphoblastic Leukemia (ALL)
Peds-Sickle Cell Crisis (adolescent so adult M/S could use as well!)
OB-Ectopic Pregnancy
Mental Health-Bipolar (Manic)
Mental Health-Depression-Psychotic with overdose
---
I will have a table at Elsevier next week!
I will be at Elsevier Faculty Development Conference in Las Vegas January 3-4 with a table for KeithRN. If attending, please stop by and say hello!