Are you a nurse educator who questions the status quo of content-heavy lectures and fail to see students get excited and engaged in their learning?
You are not alone.
Leading scholar and nurse educator Patricia Benner, the primary author of Educating Nurses: A Call for Radical Transformation, came to the same conclusion
In order to critically think, students must be able to acquire a DEEP knowledge of what is MOST important. TMI in nursing education adversely impacts student learning and nurse thinking.
To strengthen student learning, students must be able to USE knowledge and THINK like a nurse using the skill of clinical reasoning. In 2011 I began a journey to bring needed change to my classroom by implementing the educational best-practice recommendations detailed in Educating Nurses.
My website and all the resources and case studies I have created are a reflection of my passion to bring transformational change to nursing education!
Pursuing My Passion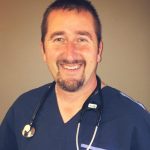 After 20 years of practice, I realized how much I enjoyed mentoring new nurses and teaching what I had learned in practice. As a critical care nurse, I considered becoming a nurse anesthetist.
At this time I was reading Wild at Heart, a book by Christian author John Eldredge that encourages men to recapture their uniquely created masculine heart that is wired for adventure. This quote literally jumped off the page:
"Don't ask yourself what the world needs. Ask yourself what makes you come alive, and do that. Because what the world needs are people who have come fully alive."
This quote gave me permission to pursue what I believe is my God-given passion and talent in nursing, the ability to teach. So after completing my BSN, I pursued my PASSION and went right to a master's in nursing education program. I have been both a clinical adjunct and full-time professor the past eight years while continuing to work every weekend in the clinical setting.
Trouble in Paradise
After my second year of classroom teaching in 2010, I began to feel a disconnect. Between the traditional content-heavy lectures and NANDA-driven care plans, I felt this traditional approach was not fully preparing my students for real world clinical practice.
Everything changed when I read Educating Nurses: A Call for Radical Transformation. According to the Carnegie Foundation research headed by Patricia Benner, to transform nursing education, classroom content and clinical realities must be brought to life in the classroom and nurse thinking developed by emphasizing clinical reasoning.
This captured so concisely in writing what I was feeling inside that I knew it demanded a response and I had to do something different— and fast! The clinical reasoning case studies and resources I have created are a reflection of my ongoing desire to be part of the needed change in nursing education.
National Stage
When nationally known nurse educator Linda Caputi previewed my case studies, she recognized the value of what I created and gave me an opportunity to present my work at a breakout session at Elsevier's Faculty Development Institute in Las Vegas in 2012. This has since opened doors to speak at additional nurse educator conferences and workshops around the country. See me speakers page for more info.
Since I created my unique clinical reasoning case studies as "tools of transformation" three years ago, they have been revised and improved to contextualize content to the bedside and develop nurse thinking.
Why Create KeithRN?

KeithRN is not about Keith or my opinions and convincing you to do things my way.
It is about practically integrating and incorporating the evidence-based practice recommendations of Educating Nurses lead author Patricia Benner.
My website, blog, and clinical reasoning resources are a reflection of my desire to serve the needs of nurse educators and equip them with tools that will empower them to strengthen student learning as well as make meaningful change!
You are Not Alone!
As a nurse educator, do you ever feel like your desire to do things very differently to prepare students for real-world clinical practice is not supported or even understood by your colleagues?
You may have even read Educating Nurses: A Call for Radical Transformation, and know from your own experience that RADICAL TRANSFORMATION is needed, but don't have the time or resources to bring that change to your class or clinical setting.
I want you to know that you are no longer alone. You have found a kindred spirit who will partner with you to do things differently.
My clinical reasoning resources can be downloaded immediately. You can bring needed change that will help students think more like a nurse, and prepare them for the NCLEX, as well as clinical practice!
Let's Transform Together
Subscribe to my email list and receive the following benefits:
FREE clinical reasoning case studies and resources! Get instant access to fully-developed case studies and my unique step-by-step template to help students to think like a nurse!
Content just for nurse educators. My weekly blog is relevant and targeted just for nurse educators.
Practical. Real and practical content filtered through my lens of current clinical practice.
CLICK HERE and you will be empowered with practical tools to help students APPLY essential learning!
Contact Info

I will promptly respond to any questions, concerns, or struggles you may be having as a nurse educator. I am available. Do not hesitate to contact me.
---
My Official Bio
Keith Rischer, MA, RN, CEN, CCRN is an author, blogger, nurse educator, and staff nurse who has practiced for thirty-one years in a wide variety of clinical settings. He currently works in critical care and ED. Defined by his passion for nursing and excellence in education, he is a recognized authority on clinical reasoning and its relevance to nursing practice.
Featured In…
His innovative work on clinical reasoning has been featured in the following nursing publications: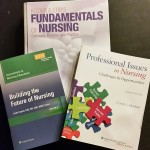 Kozier & Erb's Fundamentals of Nursing 10th ed. student textbook
Innovations in Nursing Education Volume III edited by Linda Caputi and sponsored by the National League for Nursing
Professional Issues in Nursing: Challenges & Opportunities upcoming 4th ed. (2016) edited by Carol Huston (3rd ed. shown in photo).


---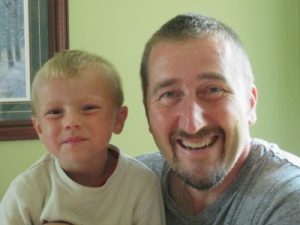 As a Christian, I am committed to pursue excellence in all that I do and to fully utilize the gifts I have been given so that God is glorified.
I am married with five grown children, and blessed with two grandchildren, Ezra and Harper.
Keith with grandson Ezra