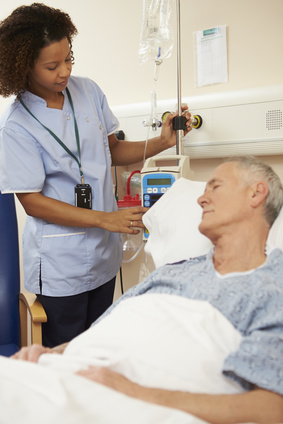 I work in the critical care float pool at a large Metropolitan magnet hospital in Minneapolis. In this role I often circulate the hospital to help other nurses.
Over the years, I have noticed a large turnover of new nurses who provide direct patient care. The number of familiar faces of experienced nurses that I have worked with since I started ten years ago gets smaller and smaller.
Though nurses have opportunities to advance their career with a wide variety of options including advanced practice, I have a nagging suspicion that there could be something more going on to what I am observing.
Could it be that the importance of being a direct patient care provider is not valued by many of our students today?
If so, what is the reason that bedside care is not valued?
Attitudes of Nurses Today
Leslie Neal-Boylan who wrote Nurses Reality Gap: Overcoming Barriers Between Academic  Achievement and Clinical Success did in depth surveys of graduating students from associate degree, baccalaureate, and graduate programs.
She notes this observation from her work:
Many associate degree nurses did not seem to have the same distaste for bedside nursing as that expressed by several of the baccalaureate prepared nurses.

Somehow, baccalaureate prepared nurses have gotten the idea that one must move away from bedside nursing as soon as possible. Indeed, the profession seems to consider moving away from the bedside to be a point of pride.
Neal-Boylan observes that this attitude is contributing to a growing lack of unity and divisiveness between the generations of nurses who provide patient care. She observes that many nurses who have advanced degrees look down upon nurses who don't and remain in direct patient care.
Neal-Boylan expressed the concern that if nurses believe that bedside nursing is somehow beneath the professional nurse, it completely devalues what nursing is.
Value of Bedside Care
Do your students see bedside care as only a springboard to something that has higher prestige as well as opportunities to make more money such as advanced practice roles including anesthesia?
Nurse educators, especially those who teach at the baccalaureate level should reflect to see if they are inadvertently contributing to this mindset. Are you clearly communicating the value, dignity, and worth of direct patient care to your students?
Though the generation of students have changed, the centrality of caring and providing compassionate care by serving others never goes out of style.
I believe that's nurse educators must do everything possible to clearly communicate and live out this ethic so that this false assumption if present can be directly addressed and confronted.
What it Means to be a Nurse
But Neal-Boylan raises an important point…what is nursing?
This question needs to be asked as well as answered by every nurse and nurse educator.
I believe that the essence of nursing is serving others in a time of need.
It involves doing whatever is needed to ensure that patient needs are fully met. Serving others is not highly valued in our culture yet it is the essence of the mindset of the professional nurse.
Serving is not about a position or what you do. It is an attitude. The best nurses have a strong desire to serve their patients, not themselves.
Do you or your students have the heart of a servant? A nurse who is motivated to serve the needs of the patient and family demonstrates the following characteristics (Maxwell, 1999):
Puts the patient first. This means that the nurse remains aware of the patient's needs, is available to help them, and recognizes that their needs must always come first.
Possesses the confidence to serve. A true servant is secure and does not feel that it is beneath them as a person to serve others, but embraces and enjoys meeting the needs of the patient and their family. The value you give to others is a reflection of the value you ascribe to yourself.
Is not position-conscious. Though you are or will soon become a nurse, this title does not encourage you to see serving as beneath you, but you possess a greater sense or obligation to serve.
Serves out of love. A true servant leader is not motivated by what they can get from their work but is fueled by a love and empathy for others. The nurse that will make a difference will have the highest level of concern for others. It is true that those who would be great must be like the least and the servant of all.
The nurse must put themselves in the patient's position and give him or her grace to be angry, frustrated, or even rude, based on the fact that they may be in pain or have just been recently diagnosed with a life-changing diagnosis. Can you still care and serve someone even if it appears to be unappreciated?
If you remain empathetic and do not take things personally, you will be an excellent nurse in practice.
Though nursing is different than working in a service industry that depends on tips, the same principles of serving, making the patient (customer) the center of everything that you do and anticipating needs all translate to the essence of what it means to be a highly engaged nurse in practice.
Can Caring Be Taught?
This is the million-dollar question!
Though caring and compassion are virtues that must be "in" a student at some level, just like the famous Gatorade commercials asked "is it in you" as Michael Jordan and other athletes beaded colored sweat of Gatorade, nurse educators must also do all that they can to integrate and emphasize the value of caring and serving others.
This includes using two questions that every student must be asked every clinical to intentionalize and reflect upon caring (see prior blog on Two questions on caring).
Case studies are a powerful tool to connect nursing textbook content to real-life practice. Case studies that present ethical and moral dilemmas and allow students to PRACTICE the ethical aspect of the profession including caring can be an effective tool to teach the importance and relevance of the "art" of nursing practice as well as how a nurse makes a difference at the bedside.
In Closing
Regardless of the attitudes that some students may have towards the value of bedside care, you can influence the mindset of your students.
Share your stories and experiences as a nurse and how you were able to make a meaningful difference by caring for patients and family at the bedside in a time of need.
Be intentional to integrate caring and cultivate the importance of the art of nursing in your program.
Start next semester strong by taking these steps to not only encourage your students to serve and care for patients well, but see the value of bedside care regardless of the setting they ultimately choose to practice in!
What do you think?
Do your students value bedside care? What have you done to communicate the value and worth of the bedside nurse?
Comment below and let the conversation begin!
References
Neal-Boylan, L. (2013). The nurse's reality gap: Overcoming barriers between academic achievement and clinical success. Indianapols, IN: Sigma Theta Tau International.
Maxwell, J.C. (1999). The 21 indispensable qualities of a leader: Becoming the person others will follow. Nashville, TN: Thomas Nelson.
Keith Rischer – Ph.D., RN, CCRN, CEN
As a nurse with over 35 years of experience who remained in practice as an educator, I've witnessed the gap between how nursing is taught and how it is practiced, and I decided to do something about it! Read more…
The Ultimate Solution to Develop Clinical Judgment Skills
KeithRN's Think Like a Nurse Membership
Access exclusive active learning resources for faculty and students, including KeithRN Case Studies, making it your go-to resource.
Sign up to receive a free KeithRN NextGen Case Study!
Develop clinical judgment skills with this innovative new case study on asthma to prepare your students for NextGen NCLEX and practice!