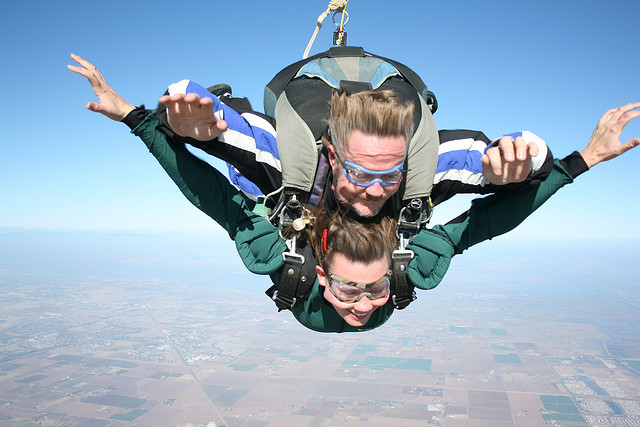 What is holding back some nurse educators to accept the need for change and more importantly do something to bring it about?
When I conducted a recent survey of my readers asking what is the most significant barrier to see needed transformation realized in nursing education, the essence of the #1 response was faculty buy-in as well as the unwillingness of faculty to change.
It is important to dig deeper and try to discern the most common reason that prevents educators from taking that important first step of transformational change.
Once this underlying motive is identified, it can be discussed and in the process loses its power to hinder transformational change.
---
 Fear of Change
I believe that the #1 barrier motivating faculty reluctance or unwillingness to change is fear.
Fear of the unknown.
Fear of doing things differently.
Fear of leaving the comfort of what is comfortable and reluctance to move out of our comfort zone.
Fear of student acceptance.
It is time for every nurse educator to go deep. Examine your heart and inner motives and identify and then face YOUR specific fear to do things differently.
The Power of Facing Your Fears
I recently had a near death experience as a result of facing my fears and it was powerful and transformational! My daughter Nikki was traveling with me when I was recently speaking in southern California.
She found a Groupon for half off skydiving and was excited to do something she had always wanted to do. I had absolutely no desire to follow in her steps but was glad to see her go for it.
But as she enthusiastically pursued her passion as we arrived at Sky Dive San Diego, I began to question my own faint heart. What was I afraid of? Jumping out of a plane at 14,000 feet could be a lot of fun and something I could cross off my "bucket list." But it could also kill me!
Needless to say, we shared an awesome experience together as father and daughter. I will never forget the deep fear I felt being connected to my expert jumper who had a belt connecting me to him hoping the parachute was packed correctly.
But the most gut wrenching aspect of this jump was facing my fear of possible death. Looking down 14,000 feet through the open jump door and rolling out the door on the count of three. Once I jumped out the plane, I was free falling for a full minute at 120 mph!
The fact that you are reading this blog post in real time is proof that I survived facing my fear!
But how does facing my fear of skydiving have anything to do with facing your fear of change? Can anything be learned from my experience?
Let me share six observations…
1. Identify Your Specific Fear
Though I have no phobia of heights as I fly regularly and enjoy the ride in an airplane, that fear was palpable and readily identifiable as I was ready to jump out of an open door at 14,000 feet!
If you or other colleagues you work with are struggling to implement needed change, there is a reason! Dialogue with your colleagues if possible to explore what is holding you back. Once the fear or barrier to change has been identified, it is time to take the next step.
2. Overcome the Fear
I had to decide if my fear was going to hold me back from what could be the ultimate experience of my life or not.
Fear and resultant barriers are meant to be overcome if they are hindering needed change. Are your fears/barriers rational or irrational? This is where another colleagues guidance and insight is needed. Regardless of whether the fear is rational or irrational you must decide whether to act or not.
When I made the decision to do things differently in how I taught, I had no one on my teaching team that was willing to join me. Though not ideal, I transformed my classroom and did what I knew was best for my students and have no regrets!
3. Find Supportive Colleagues
If I had not had my daughter's example and her support and encouragement to "go for it," I would have never left the ground.
You too need the support of others to take the plunge to do things differently! Identify those supportive colleagues and rock your world in academia together!
4. Take the Plunge!
Though I had come as far as being inside the plane at 14,000 feet, I still had to decide whether I had the courage (or folly!) to jump out.
Talking about transformation is NOT the same as doing it. You must commit to take the plunge. If your school year starts this fall, commit to implementing needed change this fall and do not look back!
5. The Time is Now!
Though I could have rationalized my fear and said I will jump out another time, I knew I would never come this close again to this experience and that it really was now or never.
Because so much is riding on the need to transform nursing education including student learning and the outcomes of the patients students will ultimately care for in practice, the time to transform is NOW! Recapture that sense of urgency and make it a priority to do it as soon as possible.
6. Find Someone Experienced Who is willing to "Jump" with You
Had I not been strapped to an expert jumper, there is no way that as someone who has never jumped before I could have taken a life threatening plunge.
My favorite experts in academia who have been instrumental when I first took the transformational "plunge" four years ago are Patricia Benner and Christine Tanner. Their work in the literature is second to none and their insight, wisdom and evidence based reflections will provide needed support and guidance.
Though I am still a newer nurse educator, I have been an early adopter of the transformational paradigm shifts identified in Educating Nurses: A Call for Radical Transformation. I have created numerous tools that emphasize clinical reasoning and active learning strategies to use in the classroom and clinical settings.
I have a free bundle of numerous clinical reasoning resources including case studies on sepsis, as well as Word doc. templates to build your own.
CLICK HERE to download!
I have committed my time and energy to be a partner with those who want to do things differently. My experience using my own clinical reasoning tools and website can help any nurse educator who wants to take those first steps of transformational change today.
If you would like additional information on additional practical strategies to transform your content, I have just posted a new eBook 7 Steps to Transform Nursing Education that is short (66 p.) and reasonably priced ($10)!
I also have a YouTube channel: Think like a Nurse to see for yourself what a brief presentation of my tools would look like in the classroom. I recommend Student to Faculty Incivility or Heart Failure/ARF Clinical Reasoning Case Study for starters.
In Closing

Educators are motivated to make a difference and impact the next generation of nursing professionals. Therefore if you sense something holding you back from making needed change, identify this fear, partner with supportive colleagues and step out into the deep and do not look back!
As you step out you must commit to see it through. I can promise a few bumps and some student resistance. But if you persevere with transformational change, you will be THAT educator students will email  after graduation and say THANK YOU! Though you made me think and work hard for my learning, you are the one who prepared me well for professional practice!
That will make the sacrifice and hard work worth it all!
Comment Question:
How have you overcome your fear of change? Was it worth it and what did you learn in the process?
Comment below and let the conversation begin!
What's New
I am excited to share two new resources that will help nurse educators practically implement transformational change with an emphasis of clinical reasoning!
FACULTY Essentials bundle: If you have purchased my Faculty KeithRN complete bundle, this has been revised and have added a new template for creating need to know lecture as well as my complete eBook THINK like a Nurse! though written for students, faculty will benefit as well. Consider adopting as a supplemental text for your students.
eBook: 7 Steps to Transform Nursing Education. A concise but thorough summary of practical steps needed to transform class and clinical based on the recommendations from Educating Nurses. Numerous practical strategies to integrate clinical reasoning in your content!