"I cannot put into words what it feels like to have nurses laugh in your face and belittle you when you ask a clinical question. I cried every shift I worked for the first 6 months."
Amanda, RN, new nurse
"Houston, we have a problem…" This famous understatement from the crew of Apollo 13 which encountered devastating complications shortly after liftoff, unfortunately fits the nursing profession today. Bullying or incivility is all too prevalent in nursing education and in practice. It is a cancer that wounds and destroys the spirit and passion of those who encounter it. Whether you are an educator, student, or practicing nurse, as health care professionals, we must ACT like it, and do all that we can to eliminate this plague on our profession.
Bullying is NOT an isolated event, but a consistent PATTERN of inappropriate abusive/aggressive behavior toward another colleague that is done solely to diminish, devalue, or disrespect them (1). 

What does this look like so you can recognize it more clearly?
Consequences to the Victim
Bullying is emotional abuse and NOT without consequences.
It wounds the victim DEEPLY in the following ways:
Inadequacy/feeling like a failure/self-doubt
Anger
Depression/decreased morale
Post traumatic stree disorder (PTSD)
Leaving unit or even nursing profession
Patient safety impacted because it is not "safe" to ask questions (3)
Do NOT Take It!
Twisted Sister, a hair band of the 1980's, had a song that became an anthem "We're Not Gonna Take It!" (this video will inspire you!). Seriously though, you do have options, and the key is recognizing bullying, being PREPARED with an appropriate response, and respectfully CONFRONTING it. The article Teaching Cognitive Rehearsal as a Shield for Lateral Violence: An Intervention for Newly Licensed Nurses is a MUST READ on this topic.
Faculty to Faculty Bullying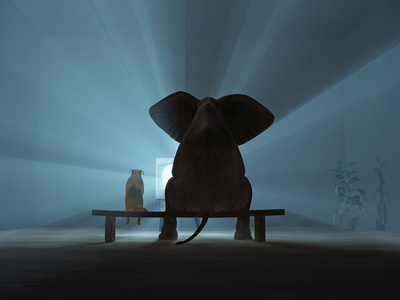 Do you see an elephant?
Unfortunately, there is an elephant in the room, and until it is acknowledged, called out, and confronted, it will continue to poison the academic environment for both students and faculty. Would it surprise you that in a recent survey of nursing faculty, 68 percent reported moderate to severe levels of FACULTY to FACULTY bullying and when mild levels are included, 96 percent of faculty have experienced it first hand (4)!
Patricia Benner has made it clear that nursing education is in need of a RADICAL TRANSFORMATION, but in order to see this vision realized, it must begin FIRST by seeing our nursing departments transformed through eliminating all vestiges of incivility!
Bullying in Nursing Education: I have summarized the current literature of incivility in nursing academia and its many forms. Student to faculty/faculty to student and faculty to faculty.
Learn more…
My Personal Story: As a new nurse educator pursuing my passion, I had no idea how joy stealing my journey in nursing education would soon become…
Learn more…
Useful Links:
Students/Nurses
Fact Sheet: American Nurses Association: Lateral Violence & Bullying in Nursing
Book: Appendix from THINK like a Nurse! Skeletons in the Closet: Nurse-to-Nurse Bullying and Incivility by Keith Rischer
Article: What students can do to promote civility by Cynthia Clark
Book: Ending Nurse-to-Nurse Hostility: Why Nurses Eat Their Young and Each Other by Kathleen Bartholomew
Book: When Nurses Hurt Nurses: Overcoming the Cycle of Nurse Bullying by Cheryl Dellaseega
Nursing Faculty
Book: Appendix from THINK like a Nurse! Skeletons in the Closet: Nurse-to-Nurse Bullying and Incivility by Keith Rischer
Website: Civility Matters: Creating and sustaining communities of civility
Article: Why civility matters by Cynthia Clark
Book: Creating & sustaining civility in nursing education by Cynthia Clark
Article: From incivility to civility: Transforming the culture by Cynthia Clark
Article: What educators can do to promote civility by Cynthia Clark
 References

Bartholomew, K., (2006), Ending nurse to nurse hostility: Why nurses eat their young and each other. Marblehead, MA: HCPro Incorporated.
Johnson, S.J. & Rea, R.E. (2009). Workplace bullying: Concerns for nurse leaders, The Journal of Nursing Administration, 39(2), 84-90.
Murray, J.S. (2008). No more nurse abuse, American Nurse Today, 17-19.
Clark, C.M., Olender, L., Kenski, D., & Cardoni, C. (2013). Exploring and addressing faculty-to-faculty incivility: A national perspective and literature review, Journal of Nursing Education, 52(4), 211-218.