Priority setting is a clinical reasoning skill that is essential to develop clinical judgment for practice and licensure.
Use this PRIORITY Patient Activity to simulate the practical priority setting that a nurse will experience in practice. This activity can be used as a virtual clinical activity or enhance traditional clinical.
There are three acute care patients to establish priorities on a medical floor in the hospital:
Pt #1:Herbie Saunders, 62-year-old male with heart failure exacerbation
Pt #2: David Mueller, 71-year-old male with a recent below-the-knee amputation
Pt #3: Gladys Parker, a 92-year-old woman with weakness and falls
Part I: Nurse-to-nurse report, review of the chart, PRIORITY setting to determine who the nurse should see FIRST.
This case study comes complete with a student writeable PDF and fully developed answer key!
Learn more!
How to Get Part II and III of This Priority-Setting Activity
Part II and III of this priority patient activity is exclusive to the all-inclusive membership which is your best value to transform the way you teach with innovative case studies!
Part II: Initial VS-nursing assessments-interprofessional communication to update care provider
Part III: New orders-evaluation of patient-pathophysiology-problem recognition and student reflection
Get immediate unlimited access to over 110 case studies, exclusive topics, and other nurse thinking tools!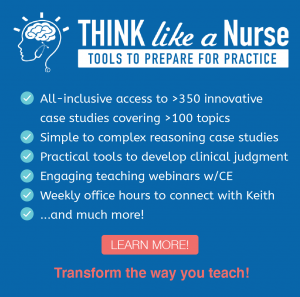 JOIN NOW