Every woman is a nurse…men have no place in nursing except where physical strength is needed.
Florence Nightingale
Where are all the men in nursing today?
Though men comprise 50 percent of the population, they comprised only 1.0 percent of nurses in 1960, 4.1 percent in 1980, 7.6 percent in 2000, and currently 9.6 percent in the US. Why is this? Are men not as suitable or capable as caregivers? Has it always been this way? The answer will likely surprise you!
Did You Know…
Men have been caregivers throughout recorded history. In ancient Rome, care was provided to soldiers in military hospitals by male nurses called "nosocomi (1)." The early Christian church had male deacons who were responsible for ministering and caring for those who were ill (2).
In early Christian Greece and Rome, orders of monks provided care for the ill.  Men  in the monastic movement were responsible for the nursing care of the sick, wounded, and dying as early as the fourth century up until the sixteenth century when monastery orders were dissolved. Some men risked and even lost their lives caring for victims of the plague (2).

Origin of the Red Cross
The monastic order of the Camellians founded by St. Camillus de Lellis, who served in the fifteenth century, had a symbol for his order of male caregivers, the red cross, that remains the universal symbol of healthcare today (1).
Florence: Not a "Fan"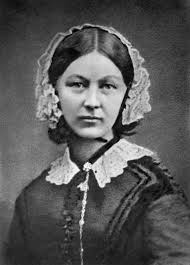 Though there were other societal forces such as the Industrial Revolution of the 1800's, that made nursing less desirable for men, Nightingale chose to firmly establish nursing as a woman's
profession. Men were excluded from her schools of nursing (5). The only practice environment
available to men were the insane asylums where men were needed because of their superior
strength. Men received an inferior eductation of half the length compared to women in
Nightingale's schools (3). Men were not allowed to participate in general practice. If a man wanted to expand his learning and practice to maternal-child nursing he was perceived as a pervert and threatened with expulsion (2).
Lingering Bias
Gender bias towards men has continued. Examples of this include:
Men excluded from membership in the American Nurses Association from  its inception in 1897 to 1930 (1)
1901-1955: Men not allowed to serve as nurses in military though they were qualified (2)
1960: 85 percent of nursing schools excluded men from admission because of their gender
2004: Qualified OB nurse was not allowed to work in hospital setting because of his gender. Supreme Court overruled this policy.
Current Barriers
The literature continues to document unique barriers that men experience in nursing and nursing education:
Homosexual/effeminate stereotypes…remember GAYlord Focker from the movie "Meet the Parents"? (see YouTube player below for this & other examples of ongoing gender stereotypes in the media)
Feminine image of nursing and name of the profession…NURSE
Little to no history of men in nursing in textbooks
Textbook and faculty assumption that a nurse is a "she" and the use of this pronoun throughout
Lack of male role models
Feelings of isolation/lonliness (4)
Current Benefits
Though being a gender minority in a profession can be a potential obstacle to advancement, for men in nursing, instead of a "glass ceiling" there has been a "glass escalator" effect. The "token male" can be a benefit and lead to being promoted and advanced to management and leadership in health care more quickly in comparison to women (5). Men also tend to have "instant credibility" with physicians and are perceived by them as more competant because of their gender (5).
Useful Links
Though the inequities of the past cannot be changed, it provides a much needed context. I am much more interested in BREAKING DOWN CURRENT BARRIERS and promote transformational change! Therefore, I have compiled this list of resources that will benefit both men in nursing as well as faculty to help make this possible!
Men in Nursing: Media Stereotypes
 References
O'Lynn, C.E.,  & Tranbarger, R.E. (2007). Men in nursing: History, challenges, and opportunities, New York, NY: Springer Publishing Company.
Anthony, A.S. (2004). Gender bias and discrimination in nursing education: Can we change it?, Nurse Educator, 29, 121-125.
Evans, J. (2004). Men nurses: A historical and feminist perspective, Journal of Advanced Nursing, 47, 321-328.
Roth, J.E., & Coleman, C.L. (2008). Perceived and real barriers for men entering nursing: Implications for gender diversity, Journal of Cultural Diversity, 15(3), 148-152.
Kleinman, C.S. (2004). Understanding and capitalizing on men's advantages in nursing, Journal of Nursing Administration, 34(2), 78-82.