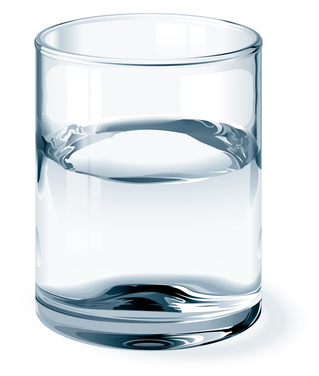 Take a look at the glass of water in this picture. Is the glass half full or half empty?
If you see it as half full, you are likely are an optimist. If you see it as half empty, you may be a pessimist.
As an educator, I see a relationship between students who are consistently negative and critical tend to also display entitled attitudes.
But how do you define entitlement?
The essence of entitlement is the underlying belief that that one is deserving of or entitled to certain privileges; that the world should revolve around their wants and needs.
What does this look like in nursing education?
an expectation that because they paid for the class they deserve a passing grade regardless of the effort put in
nursing education needs to accommodate them and what they want
resistance to active learning and an insistence to be spoon fed content with a content heavy lecture, so they know what is needed to pass the test.
The Antidote
An antidote is a medicine taken or given to counteract a particular poison if one is bitten by a poisonous snake. The antidote counteracts the poison and can save the persons life.
Entitled attitudes need to be seen as a poison in academia.If it is present it will be deadly and destructive to the student and the program.
The antidote for entitlement is threefold:
Help students take the focus off themselves
Have realistic expectations
Be thankful for what you have
1. Help students take the focus off themselves
Nurse educators need to help students develop not only as a nurse but also as a person.
This includes helping students to see that nursing and nursing school is not about them, but about being the best for the patient and serving them well (see prior blog It's All About the Patient).
To be the best nurse possible means to have this mindset and motivation fueling all that you do.
Though we want students to be successful and complete the program, pass the NCLEX®, and become professional nurses, the reason you want to be the best is so that your patients will have the best possible outcomes.
2. Have realistic expectations
In order to thrive and not just survive as a nurse educator or nursing student is to have realistic expectations.
If you set your expectations too high, you set yourself up for ongoing disappointment, frustration, and quickly losing your joy and passion.
It is all too easy to focus on what is not right in the world and nursing education.
We live in a fallen, broken world and our college campuses reflect this reality. There is no such thing as a perfect nursing program because a nursing program is administered by people and there are no perfect people.
There will always be warts and things that could be better.
Let the wisdom of the Serenity Prayer guide you to ACCEPT what you have no power to change but COURAGE to change the things you can…which comes down to you.
You can change your expectations about the nursing program as a student or educator, change your mindset to include being the best for the patient and developing an attitude of gratitude for what you do have.
3. Be thankful for what you have
Thanksgiving needs to be a way of life, not just a yearly holiday.
A person who is thankful is a much happier person and has no time to dwell on all that is wrong and develop a critical, entitled spirit because they see clearly what they do have and are joyful and thankful for it.
In America, we live in one of the wealthiest countries in the world.
We have so much that we take for granted including access to health care, clean water, enough to eat, and most have a place to call our own and sleep in our own bed.
Much of the world does not live this way.
My eyes were opened to this tragic reality when I was on a medical mission trip in Haiti shortly after the big earthquake in 2010 and by additional trips since.
Reflections from Haiti
Though it had been a few months after the earthquake, our team from a local church provided needed medical care in the sprawling tent cities where thousands of people were still living in tents and tarps. Clean water was scarce as was enough food.
While providing medical care during the day, mothers and children patiently waited for hours for the opportunity to be seen, evaluated and cared for.
But despite their humble circumstances and minimal access to primary medical care, lack of a permanent home and many hungry and struggling to find clean water, there were many smiles and appreciation for what they did have, including the fact that they were alive and had survived.
Are interested in using your skills as a nurse to serve in the developing world? If so, see my Medical Missions link for more info!
Are You Entitled?
In America, we are blessed with material affluence and enjoy a standard of living that most of the world could only dream about.
Though it is easy to recognize students who demonstrate entitled behavior at times, every one of us can drift to believe that we are "owed" a certain standard of living or to get what we want and deserve in our lives.
Get clarity by making Thanksgiving a way of life and recognizing how easy it is to take what we have for granted.
It is one thing to set aside Thanksgiving each year to do this, quite another to do this 24/7-365!
I have observed in my life that when I remain thankful regardless of my circumstances, joy inherently follows. When I am joyful, self-centered entitled thinking cannot get a foothold in my thoughts.
In Closing
Have realistic expectations, be thankful and focus on the needs of others is the antidote to entitled thinking.
Help students identify what is right in their world, that their basic needs are met and that they have been accepted and are attending a college nursing program.
This is a blessing and not a given right!
Live out these values as an educator by remaining joyful and thankful in all circumstances (1 Thessalonians 5:16-18) including the challenges and curveballs inherent in academia.
You will not only be steady and persevere, but you don't have to let circumstances determine your happiness, and can remain joyful in a sometimes joy-stealing environment!
What do you think?
How do you maintain an attitude of gratitude and communicate this to your students?
Comment below and let the conversation begin!
Related Blog Posts
Prepare Students for Practice and the NCLEX®!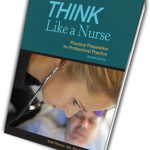 THINK Like a Nurse: Practical Preparation for Professional Practice has been endorsed by Dr. Patricia Benner and has been successfully adopted by dozens of programs across the country!
Contact me if you are a nurse educator and would like a faculty eBook preview copy to see for yourself how this text can help your students get practice ready!
A New Resource to Help Nurse Educators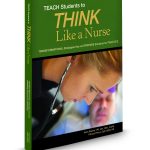 There is no such thing as a born nurse educator. It takes time and implementing educational best practice in your program.
TEACH Students to THINK Like a Nurse.  is filled with numerous best-practice strategies and time-saving tools to teach students to think like a nurse in the class and clinical settings!
Nurses confront death and dying daily. How does this influence the way you live each day?