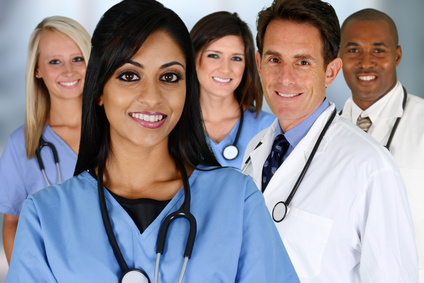 Since I work in an acute care setting that is also a training hospital for medical residents, I have asked residents about their training to identify the essential components of medical education to compare them to current standards in nursing education. Though the scope of practice is clearly different, nursing and physicians are both practice based professions that care for patients, therefore we share a common thread.
Though physicians have 11 years of education (4 years premed sciences+4 years med school+3 years residency) compared to 3 years to complete an AA or 4+ years for a BSN, there are three things that if adapted and incorporated into nursing education could dovetail with the paradigm shifts from Educating Nurses to facilitate transformational change!
---
These three components of medical education that nursing could integrate into our academic culture to bring needed transformation include:
Emphasis of the applied sciences CONTEXTUALIZED to practice
Immersion in the clinical setting of practice
Professors who remain current in practice while teaching in the classroom
Emphasis of the applied sciences to practice
The foundation of physician knowledge is the emphasis of the applied sciences to practice. Medical students are immersed in the sciences as they enter med school with a 4 year degree in the sciences compared to only 2 classes as prerequisites for nursing students that typically include A&P and microbiology. Medical students are guided in med school to translate this extensive knowledge to the bedside as chemistry, acid base and physiology are contextualized to patient care to make it clear why it is relevant.
In the same way, it is essential that nurse educators CONTEXTUALIZE the sciences to the bedside in our programs so students are encouraged to see how essential the mastery of A&P is to nursing practice and NOT just as mandatory prerequisite to be admitted to nursing school. Because A&P is a pre-requisite, the instructor teaches this essential content without CONTEXT to nursing. This is a current problem because one of the paradigm shifts advocated by Educating Nurses is the need to CONTEXTUALIZE EVERYTHING that is taught to the bedside.
Therefore make this current weakness a strength by making it a priority to spend a few minutes in each content lecture discussing the physiology of the problem and contextualizing physiology to nursing practice.
Examples of Context
The classic formula of cardiac output CO=SVxHR must be able to be translated to any shock state or fluid volume deficit so the nurse recognizes the significance of tachycardia as a compensatory physiological response to maintain cardiac output.
Serum lactates are routinely ordered for patients who may be septic. Would your students be able to understand WHY this lab is ordered and make the connection between cellular hypoperfusion in shock, Krebs cycle/lactic acidosis which the lactate represents?
For some nurse educators this content may be a weakness, therefore do what is needed to deepen your knowledge to make this a strength so that it can be taught effectively to your students.
Immersion in the clinical setting of practice
Medical residents have a benefit of 3 YEARS of 60+ hours/week immersed in the clinical setting. This extensive experience provides a strong foundation for a practice based profession.
Nursing is also a practice based profession but in most programs obtaining clinical time is an ongoing challenge. Though all aspects of nursing education are important, the clinical setting is where everything that has been taught so far in the program including the prerequisites must be able to be tied together and applied to the bedside.
Therefore, clinical education must be the greatest strength of any program in order to maximize the learning of students and prepare them for professional practice.
The essence of the Serenity Prayer is to accept what you cannot change, BUT find the courage to change what is in your control. Since clinical placements are out of your control, do what you can to bring needed clinical realities to your classroom or improve/enhance the role of simulation in your program.
Using my unique clinical reasoning case studies, creating your own with my template in the classroom or with simulation is a practical way to bring clinical realities to your program.
Professors who remain current in practice while teaching residents
The culture of medical education emphasizes the value that professors remain current in practice in order to teach med students. Therefore most professors are still active in practice, and it is the exception if they are not currently practicing part-time.
In nursing education, I have personally observed that it was the exception of full time faculty to be current in practice. I have also seen that the culture of other departments is the opposite where the majority of full-time faculty remained current in practice.
What is the culture in your department regarding clinical currency and its value to clinical education for students? Is it time to have that discussion and dialogue? I believe that the benefit to student learning is obvious and if possible remaining clinically current for full-time faculty should be an objective to strive for.
In order to make this needed objective of clinical salience for full-time faculty possible, the current culture of academia needs to change. If an educator is able to work 1-2 clinical shifts a month, this should also be built into the credit workload to demonstrate the priority and value clinical salience offers to students.
Clinical Orientation
When I was a brand new clinical adjunct, I received an orientation that emphasized hospital policy and procedures, but little to no guidance on HOW to practically and effectively teach students in the clinical setting. Because clinical adjuncts are current in practice, their ability to teach effectively tends to be assumed. Even though a clinical adjunct may be an expert nurse, it is an entirely different ballgame to manage and figure out on the fly how to teach 8-10 students and the patients that students are responsible for.
To strengthen clinical education, make sure that practical, effective teaching strategies to promote student learning are emphasized. Too much is at stake to not provide this needed information to new adjuncts!
Steps to Take Today
Consider the following practical steps to bring needed transformational change to your program:
Make a commitment to emphasize and contextualize A&P, F&E and pharmacology in both the classroom and clinical settings
Emphasize active learning strategies that bring clinical realities to your class and sim lab
Review the orientation of your clinical adjuncts. Make sure that it contains practical information to teach clinical effectively. This is essential for new clinical adjuncts. My new book Teaching to Transform coming later this fall will also be a resource to accomplish this needed objective
Stay clinically current in practice if this option is available in some context to maintain your skills and salience that will promote the learning of your students.
Comment Question:
What are you doing in your program that is similar to the medical model of a practice based education to promote the learning of your students?
Leave a comment below and let the conversation begin!