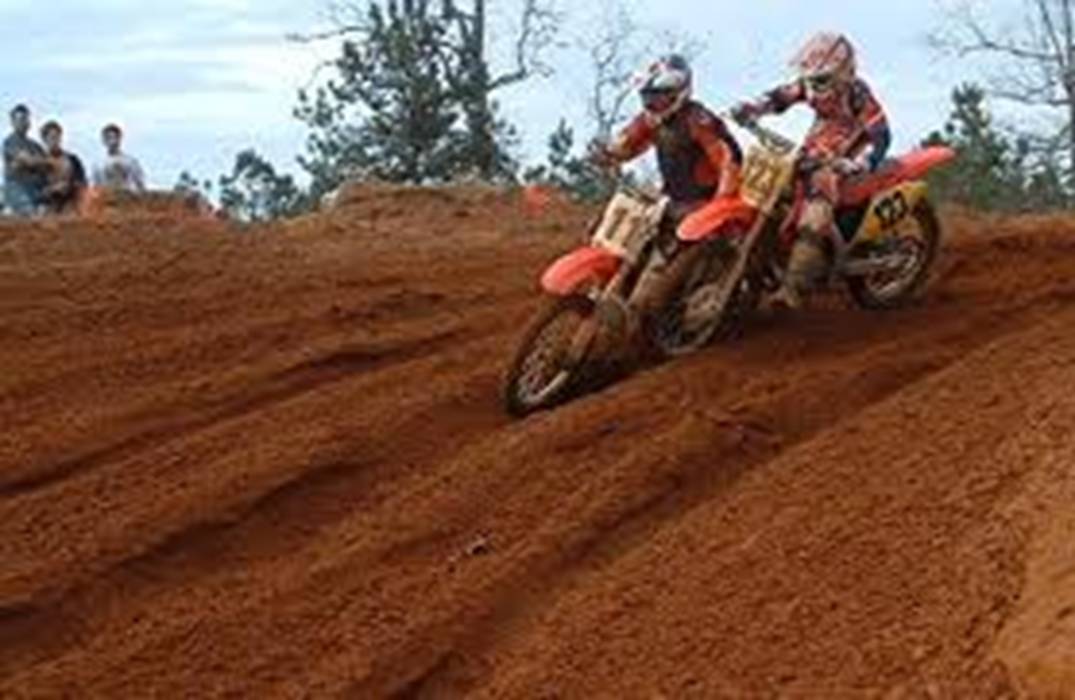 I believe like that RADICAL transformation is needed and can be realized in nursing education today. I have crafted a document: "A Declaration to Transform Nursing Education" that situates 7 needed practical paradigm shifts for nurse educators to help make needed transformation a reality.
The 3rd paradigm shift of this document states: I will use active learning strategies consistently in my classroom including the use of clinical reasoning case studies so students can practice critical/clinical thinking.
[dt_divider style="thin" /]
What does this image of motocross racing and the wide ruts in the dirt have to do with nursing education?
EVERYTHING!
Let me explain…My son Levi is an amateur motocross racer. We have a small motocross track that would be built and increased in size every Spring. The problem is, the track was completely smooth afterwards. In order for it to be usable and fast, DEEP and WIDE ruts were required in the dirt to ride in. It took numerous repetitions by my son going round and round the track to establish these ruts that would be the basis for a safer and faster track.
This is also a metaphor that will help you understand the value of repetitive practice in nursing education. In order for any nursing student to become proficient with any clinical skill it must be practiced over and over again. Just as ruts were established in the dirt by my son going around over and over again, science has demonstrated that "neuronal ruts" are established in the brain so that when anything is done repeatedly, over time it becomes ingrained, intuitive, and second nature.
[dt_divider style="thin" /]
When I taught fundamentals and the clinical skill of sterile technique/Foley catheterization was taught, students immediately recognized their need to PRACTICE and most spent hours doing it over and over until they were confident they could pass the skills check off.
This obvious need for PRACTICE for needed proficiency in nursing education was also recognized very early in our history by Isabel Hampton Robb, a nursing leader/educator who founded the American Nurses Association (ANA) and American Journal of Nursing, who wrote in her textbook Nursing Ethics (1900) the following:
"Only by constant REPITITION can you become really familiar with the work. Only by doing a thing well AGAIN and AGAIN can you obtain confidence, accuracy and precision. It is this constant, intelligent PRACTICE that constitutes the difference between the skilled trained professional woman and the amateur."
Practice Nurse Thinking!
As nurse educators do we recognize that THINKING is also a SKILL that must be PRACTICED? But more importantly, are we providing consistent use of ACTIVE learning strategies that emphasize clinical reasoning so that theory content can be APPLIED and PRACTICED in our classrooms? This is a foundational paradigm shift that nursing education must implement and was a key finding of the Carnegie Foundation educational research headed by Patricia Benner in Educating Nurses: A Call for Radical Transformation. In many classrooms this is not the case as content heavy PowerPoint lectures continue to be the norm (please see my last blog Where's the Joy for practical guidance to break this mold!).
Clinical Imagination
In addition to an emphasis of clinical reasoning, creating "clinical imagination" in your classroom is essential to create a "clinical skills lab" in your classroom where nurse thinking can be practiced..
Educating Nurses explains this further: "Nursing students need to acquire knowledge in a way that relates directly to the skilled know how they are developing in clinical situations and to acquire knowledge in a way that allows them to IMAGINE situations and REHEARSE for them" (1)
Does your classroom authentically and intentionally bring this richness of clinical reality to allow students to imagine clinical realities so that they can rehearse or practice for practice? If not, let me share some observations and guidance to help you not only "flip" your classroom, but more importantly TRANSFORM it!
Evaluate Your Case Studies
If you are going to use case studies to situate student learning so they can APPLY and PRACTICE needed nurse thinking (a simple and effective strategy!), these case studies must mirror as closely as possible clinical reality and practice. Closely evaluate what you are using or have available by your textbook manufacturer as a supplement and determine does this case study:
Emphasize CONTENT application from the textbook?
Utilize multiple choice answers or are the student responses open ended?
I have personally noted that not all case studies are created equal! I have noted that many case studies that are marketed to nurse educators emphasize application of CONTENT, but neglect NURSE THINKING in the clinical scenario. Multiple choice answers may be expected on an exam or the NCLEX®, but in clinical practice you do NOT have the option of multiple choice, you either know it or you don't! Therefore case studies should mirror this clinical reality and have open ended responses.
[dt_divider style="thin" /]
Practical Steps to TRANSFORM!
When I last taught in the classroom, the case studies that were available emphasized content over clinical reasoning and were multiple choice. When I saw the vision that Patricia Benner and her co-authors laid out in Educating Nurses, I decided to create my own unique clinical reasoning case studies that emphasized clinical reasoning, as well as content application, were open ended in the student responses, and brought clinical imagination to my classroom. I am a perpetual "tweaker" and have dramatically improved and refined my original clinical reasoning case studies that are now posted on this site and the workbooks I have published that contain all my current case studies.
I now have 12 clinical reasoning case studies posted on my website consisting of 3 different levels of complexity that begin with FUNDAMENTAL Reasoning that emphasizes nursing process and basic nurse thinking. RAPID Reasoning is a basic intermediate "just right" level that introduces clinical reasoning, and UNFOLDING Reasoning build on RAPID Reasoning with a higher level of complexity and synthesis of content that also includes a change of status that must be recognized.
Build Your Own!
I willingly provide as a FREE download, the same templates of each level that I use to create my case studies on this website as a Word doc so you can easily create your own and modify to meet your needs. My copyright is your right to copy as long as the tools you create stay in your program! I also have a Faculty Submission page that contain case studies that nursing faculty have submitted and have given me permission to post. You can download these FREE and use in your program as well. If you would like to submit your own work so I can review and post, please email me!
Change is possible! It is my hope and prayer that you will use these "tools of transformation" and let the needed change begin with you and your classroom today!
 Question: What do you think? What have you found effective to PRACTICE and develop nurse thinking in your program? 

Please comment below and let a conversation begin!
Additional Clinical Reasoning Resources from KeithRN
[dt_divider style="thin" /]
 References
Benner, P., Sutphen, M., Leonard, V., & Day, L. (2010). Educating Nurses: A Call for Radical Transformation. San Francisco, CA: Jossey-Bass (p.14)