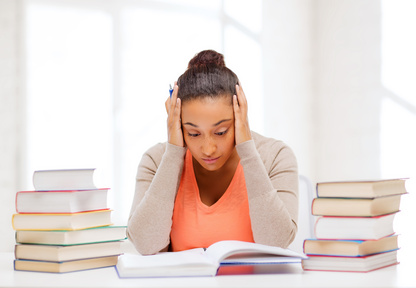 I believe like that RADICAL transformation is needed and can be realized in nursing education today. I have crafted a document: "A Declaration to Transform Nursing Education" that situates 7 needed practical paradigm shifts for nurse educators to help make needed transformation a reality.

The 2nd paradigm shift states of this document states: I will decrease classroom content and will contextualize nursing concepts that are most relevant to my topic. 
Last week I asked in my blog, "Where's the caring?" Today I ask, "Where's the joy?"
If you are a nurse educator, look closely at your students today. Are they filled with a passion for learning and enjoy the opportunity to be in your class? Or are they more like the student in this picture; tired, stressed, overwhelmed, and some one "straw" from a nervous breakdown? If you were to take the time to ask, most students would admit that nursing education is something to ENDURE, not something they ENJOY.
How about you as an educator? Do you feel the same as your students? Does it have to be this way?
But more importantly, are nurse educators contributing to this environment that overwhelms themselves, their students, and removes the joy of learning from nursing education?
[dt_divider style="thin" /]
Too Much Content!
As textbooks morph in size with every edition, I have seen some nurse educators make the lethal mistake of making it clear that EVERYTHING is important and relevant in this chapter or in this lengthy textbook reading. As clinical experts who teach nursing, it is our responsibility to identify what is RELEVANT and ESSENTIAL to clinical practice and NOT make the entire chapter open for test questions so our students will spend hours studying, not realizing what aspects of this chapter will prepare them for clinical practice.
The end result of this approach to nursing education is that students acquire SKIN DEEP knowledge of a large amount of content, but not the DEEP LEARNING of what is most important! Therefore, if this is the culture in your program, you may be able to take pride in how rigorous and difficult it is, but realize it may NOT be preparing your students for the challenges of clinical practice because they will be unable to translate SKIN DEEP learning to where it matters most; real world clinical practice.
"Covering" the Content
Patricia Benner made this insightful comment in a recent newsletter, "Do we (nurse educators) recognize that when content is "covered" that we keep students from recognizing what is most important?" This is the danger of content heavy PowerPoint presentations. So much content is "covered" in a short time, that students have no idea what is really important because it is literally "covered" or hidden to them.
Patricia Benner and the coauthors of Educating Nurses: A Call for Radical Transformation boldly challenge the wisdom of the all too common content heavy PowerPoint presentation in the classroom:

"Classroom teachers must step out from behind the screen full of slides and ENGAGE students in clinic-like learning experiences that ask them to learn to use knowledge and practice thinking in changing situations, always for the good of the patient." (1)
Contextualize Content
Another finding of the Carnegie Foundation research of nursing education was that most classrooms taught theory primarily from the textbook, with no CLINICAL context to "hook" what is being taught so it is "caught" by the students who will see the relevance of what they are learning and then be able to APPLY this to the bedside (2).
For example, F&E, A&P, pharmacology (mechanism of action) must be DEEPLY understood and contextualized in order for it to APPLIED to the bedside!
As adult learners, students are looking for RELEVANCE in learning. When students feel like they are jumping through hoops they disengage. But if they see the relevance of content by educators who intentionally CONTEXTUALIZE CONTENT to the bedside, this is the beginning of TRANSFORMATION in your classroom and increased ENGAGEMENT by your students!
My Story
When I read Educating Nurses over Winter break 4 years ago, these and other criticisms of nursing education captured my discontent as a newer nurse educator, but practicing nurse of 20+ years. I made the decision to go for broke and cut my content lectures in half, emphasize most important concepts, then situate these concepts with a clinical scenario I derived from my clinical practice in ED and ICU.
I posted the blank student version on the web, and students came to class having read the content, and worked through the case study ahead of time, so they were prepared to discuss and present in class. Though there was some pushback because it required additional work from them initially, they soon saw how a clinical reasoning case study translated learning to the bedside and was RELEVANT.
When I did a survey at the end of the semester, not ONE student said to go back to a traditional content lecture but continue to use these case studies that required application of knowledge. My students engaged, and I had FUN teaching as the classroom felt like I was in the clinical setting (but much more controlled)!
Be the Change!
Though I did not know it at the time, that was the beginning of KeithRN and this website and the resources I have created to provide practical tools of transformation. Nursing education will always be challenging and rigorous. But it does not need to overwhelm and steal the joy of learning from our students.
If you are a nurse educator, take the first step and break the mold of content heavy lectures. You have nothing to lose, but you and your students have so much to gain!
 Question: What do you think? Does nursing education burden students with too much content? How has active learning transformed your classroom? 

Please comment below and let a conversation begin!
Clinical Reasoning Resources from KeithRN
[dt_divider style="thin" /]
 References
Benner, P., Sutphen, M., Leonard, V., & Day, L. (2010). Educating Nurses: A Call for Radical Transformation. San Francisco, CA: Jossey-Bass (p.14)
Benner, P., Sutphen, M., Leonard, V., & Day, L. (2010). Educating Nurses: A Call for Radical Transformation. San Francisco, CA: Jossey-Bass