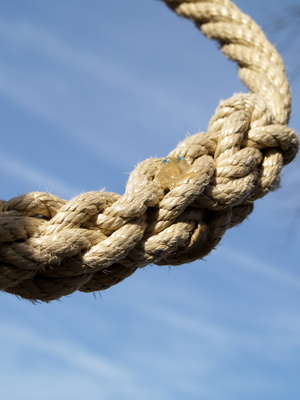 "Two are better than one, if either of them falls down, one can help the other up. But pity anyone who falls and has no one to help them up. A cord of three strands is not quickly broken." Ecclesiastes 4:9-12
We need one another! Whether you are a nursing student struggling to keep your head above water or faculty feeling the burn of a new semester, at some point you will stumble, fall and need another to pick you up so you can continue to persevere in nursing academia! This is one reason that bullying and incivility must be stamped out because it brings DIVISION & DESTROYS the ability to work TOGETHER! Your program or school of nursing is only as strong as your TOGETHERNESS! This timeless truth was also validated by Solomon, the wisest king in the history of ancient Israel. What was written over 2500 years ago in Ecclesiastes remains relevant today!
This was put in perspective for me after I just returned from presenting my work on clinical reasoning at Elsevier's Faculty Development Institute last week.  One word jumped off my closing statement that I feel is an exclamation point for those who desire to be a part of the needed transformation in nursing education.
"TOGETHER we can realize Benner's transforming vision of nursing education to not only promote the learning of our students, but more importantly better outcomes for the patients they care for."
To put this statement in needed perspective, I need to take you back 3 years ago when I was a fundamental level faculty. It was winter break and I was reading  Educating Nurses: A Call for Radical Transformation by Patricia Benner and her coauthors. The essence of what is needed to transform nursing education is that everything  that is taught in the classroom must be contextualized to the bedside so students can see why classroom theory is RELEVANT!
I knew I had to do something different, and fast! So I spent the last half of my winter break reworking my assigned theory content so that my content heavy lectures would be modified to  incorporate active learning strategies and apply transformational change to my classroom.
By Spring semester, I was doing things differently in my classroom by cutting my theory content in half, and using the other half to present my clinical reasoning case studies (that I now have posted on my website). My other team members continued to present content only lectures with no clinical reasoning case studies. By the end of the semester, when a survey was done to gather student feedback, every student wanted a TRANSFORMED classroom that included the paradigm changes I had initiated.
But as I reflect on my own journey to transform my content through an emphasis of clinical reasoning, I did not include my team in this process. This was not an intentional exclusion, but it had adverse consequences. This created a whole set of additional stresses to my team that could have been avoided.
Therefore, I strongly encourage nurse educators to use the power of TOGETHER to TRANSFORM your department by doing the following:
Encourage one another and pull them out of the pit prn!
*Life is hard, but academia is even harder, has been my experience as a faculty as well as by observing my students. THEREFORE, in this environment more than ever, we need each other!
*If you see your colleague struggling, or having a bad day, do not be passive & indifferent, but take initiative, and let them have your hand to grasp to pull them out of their "pit!"

Get your teaching team on the same page!
*Begin by reading TOGETHER and discussing Educating Nurses. The implications of the educational research of the Carnegie Foundation must be addressed, discussed, and ultimately embraced!
*If we expect our students to use evidence based practice as  a standard for all that is done clinically, as educators we must also walk the talk and do the same!

Business as usual is no longer an option!
*Human nature tends to resist needed change. Now what? This is the time to get your team lead or better yet, your department chair to be an advocate to transform your department based on the transformational paradigms from Educating Nurses.
*Leadership has the power to set a new bar. If they see the light, they can be the captain that will be able to use their influence to steer the ship in a new direction regardless of possible resistance from other team members.

Remind yourself and your team of the consequences of nurses who graduate from your program and "fail to rescue"
*When nurses "fail to rescue" their patients when they experience a change of status, they will suffer adverse outcomes and may even die as a result. Therefore, clinical reasoning,  not NANDA based care plans must be emphasized especially in the final year to prepare your students for practice & prevent "failure to rescue!"
*According to del Bueno (2005) A Crisis in Critical Thinking, only 35% of new gradautes met entry expectations for clinical judgment!

Know that you are not alone!
*As nurse educators you do not need to reinvent the wheel! I have created a rich variety of practical clinical reasoning resources, case studies and templates to even build your own "nurse thinking" case studies to use in your classroom or clinical setting!
*There is no longer an excuse to do nothing. I have spent countless hours creating my "nurse thinking" resources and website to partner with you in needed transformation. We must recognize that the time is now because of what is at stake (human life)!
The power of TOGETHER is a foundational stone to TRANSFORMATIONAL change. Therefore, start a needed conversation in your program or on this blog by reflecting/responding to the following questions:
How tight and strong is the three strand cord of TOGETHER in your program or nursing school? Strong…a little loose or frayed and ready to break?

What have you done or plan to do today to strengthen this cord of TOGETHERNESS in your program or nursing school?