"I've been using Keith's case studies for the past couple of years. The student's love it, and our class time is much more productive. They score higher on their exams because of the "application".

Rob Morris, RN, MSN , Nursing Faculty, College of the Sequoias, Vasalia, California

"I LOVED the way your clinical reasoning case studies were taught and structured. It made it much easier to remember and think critically about what we were learning."

Monica Flis, RN (Nursing student I taught who graduated 2012)
My Best Value Priced Bundle!
If you would like the convenience of having the paper workbook but need the pdf files of every case study to post electronically for your students, this package is for you! The PDF files of these 12 studies bundled is $90. Purchase this bundle, and I will include the paper workbook for only $9.95!
Save $140! FACULTY KeithRN Ultimate Bundle: RAPID Reasoning ($240) now only…$99.95
Save $140! FACULTY KeithRN Ultimate Bundle: UNFOLDING Reasoning ($240) now only …$99.95
These workbooks are derived from the 12 case study topics currently posted on my website. In addition to having each case study professionally printed and bound, they contain additional resources that will promote your learning of clinical reasoning and how to effectively use these case studies in your classroom or clinical setting.
The NCLEX Just Got Harder!
Most of you now know that the NCLEX just got harder in 2013 and passing rates have dropped significantly (90% pass rate 2012 to 69% pass rate currently!). Since the NCLEX assesses the ability of the nurse to make a correct clinical judgment based on clinical reasoning, if clinical reasoning is DEEPLY understood and applied to practice, you will be in a much better position to apply your knowledge to the clinical scenarios on the NCLEX and pass the first time. My workbooks emphasize application of knowledge and clinical reasoning. Therefore it will be a needed tool to help you pass the NCLEX, but more importantly prepare you for clinical professional practice!
Nurse as Lifeguard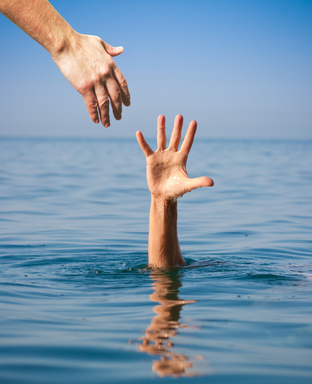 Once your students leave your program, they will at times be a "lifeguard" who will give a patient a hand and rescue them as they are going down for the last time due to a clinical change in status. But what if this patient in crisis fails to be rescued by the graduate nurse because the change in status went unrecognized until it was too late?
If this image was someone who needed help, but the lifeguard was not vigilant and did not see the person struggling, they will die as a result. Unfortunately the same outcome is possible for the patient of a nurse who is not vigilant and fails to recognize a change in status until it is too late.
Practice Nurse Thinking!
As a student or new nurse, this is your worst nightmare. You know your lack of experience is a barrier to recognizing subtle but early changes that may represent a life-threatening change of status such as sepsis. In order to gain needed proficiency with any new clinical skill while in nursing school, you need to PRACTICE that skill, until you became proficient. Can thinking be practiced like other clinical skills that are required for nursing care? It is my belief, that nurse thinking can be practiced as long as clinical reasoning is contextualized to a realistic clinical scenario. These workbooks make an excellent SUPPLEMENTAL text to your nursing school content by laying a strong foundation of "nurse thinking" and allowing you to PRACTICE NURSE THINKING with a concrete template of  clinical reasoning questions that must be asked and correctly answered. This knowledge will transfer to the clinical setting to help make correct clinical judgments with every patient you care for.
Though I originally created these case studies for faculty to use in the classroom, I have created this workbook with students in mind so you too can promote your learning and understanding of clinical reasoning if this essential "nurse thinking" skill is not situated in your program. This emphasis of clinical reasoning will also prepare you for the NCLEX by applying your knowledge to a clinical scenario!!
Each of the 12 case studies in each workbook closely mirror the realities of clinical practice. In addition to the student worksheets for each scenario, I have developed a thorough, easy to read narrative answer key (NOT a textbook!) that is derived from my 30 years of clinical practice in a wide variety of settings including ED and ICU.
Differences Between RAPID & UNFOLDING Reasoning The student would benefit by using both workbooks to promote learning because they complement one another. The RAPID level is ideal for contextualizing content during nursing education. UNFOLDING Reasoning builds on the same scenario but are more complex and situate a change of status. This level would best suited at the second year as it will prepare the student for practice as well as the NCLEX!
Rapid Reasoning (281 p.)  Intermediate level clinical reasoning case study that is best suited for first year nursing students, but can be used by advanced students/new nurse graduates as well. Many find this level "just right" because it is short, concise, and can be completed in less than an hour. In addition to identifying what clinical data must be recognized as clinically significant, I introduce my template of clinical reasoning questions that breaks down "nurse thinking" step by step to establish care priorities to grasp the "essence" of the clinical scenario.
LEARN MORE…
Unfolding Reasoning (377 p.) is an advanced clinical reasoning case study that is best suited for second year nursing students, but can be used by new nurse graduates as well. It is up to twice the length of Rapid Reasoning. Each case study is a synthesis of all that you have been taught in nursing school. It pulls together pharmacology, pathophysiology, F&E, nursing process and clinical reasoning to grasp the "essence" of the primary problem.
LEARN MORE…
TABLE of CONTENTS for both RAPID & UNFOLDING Reasoning Case Study Workbooks

Unit 1: Fundamentals
Surgical Pain Management (1 of 2)
Unit 2: Cardiovascular System
Hypertension
Acute Coronary Syndrome/Myocardial Infarction
Heart Failure/Acute Renal Failure
Unit 3: Respiratory System Pneumonia/Chronic Obstructive Pulmonary Disease
Unit 4: Neurologic System Cerebral Vascular Accident
Unit 5: Digestive System
Cirrhosis Pediatric Gastroenteritis
Unit 6: Endocrine System Diabetic Ketoacidosis/Chronic Renal Failure
Unit 7: Reproductive System Breast Cancer
Unit 8: Synthesis Clinical Reasoning Case Studies
Sepsis/Septic Shock
Narcotic Over Sedation/Cardiac Arrest (2 of 2)
Appendices
A: Students Only: Practical Preparation to Pass the NCLEX
B: Students/Faculty: Clinical Reasoning Questions to Develop Nurse Thinking
C: Faculty Only: Guide to Transform Your Classroom Using Clinical Reasoning Case Studies
D: Faculty Only: Guide to Situate Caring in Your Curriculum