Thanks for stopping by my table and checking out my unique clinical reasoning resources!
As a newer nurse educator, it did not take me long to figure out that teaching nursing is hard. But Initiate needed change? Even harder!
Are you like me? Do you too question the status quo and recognize that the traditional model of nursing education is not adequate to prepare students for real-world clinical practice?
You are not alone.
Leading scholar and nurse educator Patricia Benner came to the same conclusion as the primary author of Educating Nurses a Call for Radical Transformation.
The Solution
As a newer nurse educator who remained current in clinical practice, I was an early adopter of the paradigm changes from Educating Nurses.
In response, I created unique clinical reasoning case studies with salient scenarios derived from practice that contextualized content and emphasized clinical reasoning.
My classroom was not only flipped, it was transformed! Now you can access the tools I created and used successfully so you too can bring needed change to your content!
Check out my ABOUT page to learn more about me and the rest of my journey!
FREE Transformation Toolbox for Conference Attendees!
Don't take my word, see for yourself how my case studies and other clinical reasoning resources can strengthen student learning and help them to think more like a nurse! Get my toolbox and I will also keep you in the loop with my blog and new resources/case studies I will be creating.
What You're Getting:
Template of 12 Clinical Reasoning Questions To Develop Nurse Thinking. Breaks down the essence of clinical reasoning in 12 sequential steps so students can understand and develop needed nurse thinking.
Sepsis Clinical Reasoning Case Studies (bundle of 3). My 3 distinct levels of progressive complexity allow clinical reasoning to be practiced as well as leveled across the curriculum!

Sepsis SKINNY Reasoning. Short n sweet and takes only 15″ to complete! Half the length of my standard case studies to easily incorporate in class or clinical post-conference.
Clinical Dilemma Case Study: Student to Faculty Incivility. Discuss academic incivility and what professional behavior looks like as a nurse.

Word doc. Case Study Templates. Build your own clinical reasoning case studies! These are the same case studies I use to build what I have posted on my site.
Users Guide to implement case studies. Short article I wrote to make it simple to bring transformational change to your classroom!
SPECIAL BONUS! My best chapter from my new textbook for students; THINK Like a Nurse. Chapter 9, "Clinical Reasoning is Nurse Thinking". See for yourself if this text could help your students to think more like a nurse! This content will also help you better understand download #1-my template of clinical reasoning questions!
---
QUICK LINKS
To quickly navigate the highlights of my site for more case studies and nurse thinking resources simply click the links below:
Clinical Reasoning Case Studies–Three distinct yet complementary levels that can level nurse thinking across your curriculum!
SKINNY Reasoning-NEW! Case studies that are "short n sweet" and take only 15 minutes to complete!
Clinical Dilemmas-Case studies that integrate and emphasize the "art" of nursing
THINK Like a Nurse: Practical Preparation for Professional Practice-Student text that emphasizes clinical reasoning and practical principles to transition successfully to real-world practice. Makes a great synthesis/capstone text! Contact me for student volume discounts.
KeithRN Blog-I address common concerns with practical solutions just for nurse educators!
KeithRN Store-Quick overview of all my unique clinical reasoning resources including workbooks and 50% off value priced bundles!
r u weary?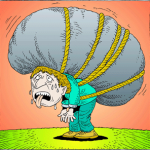 Though it is not unusual to be tired and weary at a busy conference or as a nurse educator, some of you have a deeper weariness; that heaviness in spirit caused by burdens or ongoing personal struggles that have stolen your life and joy.
I have good news. Those burdens can be lifted. There is a God who cares and loves you dearly who longs and desires for you to bring those burdens to Him and will give you needed rest. LEARN MORE….