Though my students were adult learners they still wanted to be spoon fed…
CONTENT from my classroom lecture that is! Some even had the gall to ask, "What do I need to know to pass the test?"
As a new nurse educator, I did what I saw my colleagues doing. I created beautifully designed slide after slide of PowerPoints that "covered the content" of the chapter from the textbook I was responsible to teach.
But after twenty minutes of sharing my expert wisdom and knowledge, my students began to get restless and distracted. They were no longer engaged.
Because I had so much content to cover, I had no time to get creative and try to "flip" my classroom with relevant active learning.
I had to ask myself…
"Is this really the best way to teach a practice-based profession?"
I came to this conclusion…
Nothing will change, unless I change the way I teach!
How to Bring Needed Change
Content must be contextualized to the bedside and students must be taught how to USE and APPLY clinical reasoning to think more like a nurse.
This was the conclusion of the educational research contained in Educating Nurses: A Call for Radical Transformation with lead author Patricia Benner.
I was an early adopter of these needed changes five years ago and created unique case studies that contextualized content and emphasized clinical reasoning.
My students loved them because it helped them transfer learning from my classroom to the clinical.
My current case studies (Fundamental/Rapid/Unfolding Reasoning) are effective tools, but are longer, and several pages in length which makes it difficult to use in class and clinical post-conference in one sitting.
Short 'n Sweet Case Studies!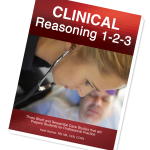 That is about to change with my new series of case studies titled Clinical Reasoning 1-2-3. They are three sequential case studies that use the same scenario, but "bite-sized" in length, only 2-3 pages!
They use the same scenarios as my synthesis case studies, but are reformatted with this restructured framework.
This active learning tool is well suited across the curriculum but a must have for fundamental or practical students.
These three smaller case studies or "steps" have the same scenario, but emphasize a different aspect of how a nurse thinks in the clinical setting.
Each case study stands alone on its own merits, but student learning will be strengthened when all three case studies used together.
Each topic has the following three seperate case studies with each topic:
Case Study/Step #1: Recognize RELEVANCE and PRIORITIES

Emphasizes the essence of clinical reasoning and the importance of identifying and interpreting RELEVANT clinical data of the initial scenario, VS, assessment, and labs to establish the correct nursing priority.

Case Study/STEP #2: Recognize Clinical RELATIONSHIPS.

Builds on the essence of clinical reasoning by emphasizing the nurse thinking skill of recognizing clinical relationships. These relationships include in part, the RELATIONSHIP of the past medical history and current medications, the RELATIONSHIP between RELEVANT present problem data and the primary medical problem and four more that students must know!

Case Study/STEP #3: Care Like a Nurse by Providing Holistic Care.

Emphasizes the importance of holistic care and the relevance of the "art" of nursing by addressing psychosocial priorities and how caring, empathy, engagement, therapeutic communication can be utilized to provide holistic care.
What educators are saying…
"These case studies strengthened my students ability to determine what was clinically significant and helped them identify TRENDS of clinical data to establish nursing priorities. The questions in the cases made them think like a nurse and how to incorporate not only physical but psychosocial care priorities."
–Sharon Davis, RN, MSN, PMHNP-BC, CDE, University of West Alabama
---
"Utilizing these cases during post-conference and tying it to a similar client situation enhanced clinical learning. Often students are overwhelmed and unsure how to prioritize. Using your cases in clinical provided a template that forced them to THINK through a logical sequence and gave my students confidence to make critical connections and make logical judgments."
-Lisa Schilling, MSN, RN North Central Missouri College