As a nurse in the clinical setting for thirty years, I have experienced episodic incivility and bullying behaviors. But when I entered nursing academia several years ago, I was totally unprepared for the intensity and severity of incivility that was unlike anything I had experienced in the clinical setting.
These behaviors ranged from polarizing faculty attitudes toward the department chair, denigrating one another openly in faculty staff meetings, and withholding information that later led to intentional sabotage.
The Purpose of the Pit
When this incivility became personal and I experienced what the literature describes as "withholding information", "sabotage" and "setting up to fail", it became so painful that I vowed "Never again!" to continue my career as a nurse educator. I can make more money and have less stress and less pain in clinical practice!
Bullying shook me to the core of my identity and what I thought was the "right" career path pursuing my passion as an educator. Making the recent sacrifices to complete my masters in nursing education that seemed so logical just a short time ago, now seemed so wrong and misguided. As I sat in this "pit" reflecting on where to go from here, I did not have needed perspective at the time to see that God was actually at work in the deep, dark pit I was in.
Who Are You?
What defines your identity as a person? Like so many, my identity and value as a person was wrapped up in what I did. I am a driven, type A who doesn't know when to stop. Working 60+ hour weeks to teach and work clinically part-time was not a problem (or so I thought).
When what I thought was a "sure thing" to obtain a permanent position in the department was not offered to me, who am I now? Do I have value and worth if I am unable to pursue my passion as an educator? Do I even want to go back to teaching and risk being hurt and wounded again?
As I pondered these troubling thoughts, I was reading the 23rd Psalm. It begins, "The Lord is my shepherd, I shall not want; He MAKES me LIE DOWN in green pastures (emphasis mine).
Verse 3 goes on…"He restores my soul."
Though painful, it became clear that God was using this experience to make my lie down, SLOW down, and rest, so that needed RESToration could take place in my life. Though I loved what I was doing, I had allowed the "tyranny of the urgent" to keep me from what was most important in life; as a Christian, to cultivate and make my relationship with God my primary purpose and priority in my life. This is the ultimate purpose each of us are called to live out and experience. I had been working 60+ hour work weeks between part-time clinical practice and academia and it was beginning to take its toll.
I learned my lesson, though it continues to be an ongoing tension in my life. But it is only by the grace of God I am still standing and the opportunities to present and serve others through my presentations and website and writing case studies and even books is a testimony to this truth.
Just as Joseph could say to his brothers who had thrown him into the pit; "you meant evil against me, but God meant it for good" (Genesis 50:20). I can now look back and see the good that has come and life lessons I have learned.
But there is more to my story. It is how God used one person to bring closure and needed healing and encouragement to my soul.
Healing Begins
Though I always enjoy presenting my topic of clinical reasoning at conferences, I had a cloud over me when I came to Elsevier's Faculty Development Institute in 2013. I was deeply wounded by the incivility I had recently experienced in another setting in academia.
Patricia Benner was the keynote speaker and I brought my well-marked copy of Educating Nurses to be signed, which she graciously did the day before. I presented at a well-received breakout session on "Clinical Reasoning in the Clinical" that situated clinical reasoning and the recommendations from Patricia Benner and her coauthors from Educating Nurses. I finished my session and several educators made their way up front to talk with me.
Another educator approached from a distance and also made her way up front. Other educators who saw her coming moved out of the way to let her come to meet me. All she said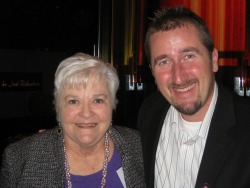 was, "We need to talk, and I would like to know if we could meet for lunch." Since it was time for the lunch break, I quickly said yes because I recognized her from our prior meeting. It was Patricia Benner!
She had been in the audience for my session unknown to me and wanted to let me know what she thought of my presentation on her work (she liked it!). But this is not about having lunch with a living legend, but how God used her in my life to bring healing to my heart.
Though other educators I had worked with did not value me and my contributions, Patricia Benner validated and affirmed me and let me know what she thought of my true worth and value as an educator during our time together and my obvious expertise as one who clearly understood her work.
"Consider the source" is a common statement we use when we encounter criticism that is not felt to have merit, but what about this statement when validated by another? Knowing that my value and worth as an educator was recognized by Patricia Benner made all prior incivility that was still sticking to me, drop into a puddle at my feet so I could move forward and leave it all behind!
Words for the Wounded
Knowing that 96% of nursing faculty departments have some degree of incivility present, if you are in academia, you have likely experienced this personally. I would like to share from my own experience what I hope will encourage you.
First, give NO ONE the power to steal your joy, as well as your purpose in life! Many faculty have a sense of vocation or calling to serve as an educator. Therefore, fight for joy, do what is in your power to address what you are seeing or experiencing in your department, and hold your head high!
You are a person of inherent value, worth and dignity. Because incivility also strikes to the core of your feelings of competence, never let the opinion of a "bully" define your abilities as a nurse or educator!
Don't Let the Villain Win!
Why does every fairy tail have a villain, an adversary who opposes the very purposes of the heroine? Think evil stepmother and Cinderella as a classic example.
It is because fairy tales are more true to life than you realize. Your life is a story. There is a purpose and destiny to your life that for many are meant to be lived out and expressed in academia.
But you too have a villain, an adversary who wants to take you out and keep you from your calling. In nursing and nursing education, the most common villain are the arrows and wounds that incivility brings through others.
Find and seek out the support of others. You are really never alone. If your faith is meaningful to you then let the God you serve be your needed strength in times of trial!
Words That Bring Healing
I share this to highlight something that I think is important for each of us as faculty to recognize: the power of validation and encouragement to one another. In my experiences in academia, praise and affirmation were in short supply and rarely offered. We don't seem to recognize the power that this has to bring healing to hearts that have been wounded by incivility or are needed in a high stakes and stressful work environment.
Practical steps to transform the culture of a department where incivility is present takes time, patience, courage, and commitment to change by the entire department. The first and most effective, but also the most difficult, step is to respectfully CONFRONT in private an uncivil colleague. It can effectively put an end to the problem by directly addressing the behavior (1). Strong visionary leadership by the department chair or dean is also essential to lasting change.
The "elephant in the room" must be identified and called by its true name. If the "elephant in the room" is the department chair, then there may be more documentation needed to support your claim with administration. Each faculty member must make a renewed commitment to become more engaged and treat one another with dignity and respect (2).
More importantly, if we have been a sword that has wounded others through our sharp words, we must be willing to humble ourselves and offer forgiveness to those we have wounded. Though this is difficult, this is how the power of a culture of incivility can be broken!
If incivility continues to flourish behind the doors of academia, many qualified and clinically current educators will likely leave as a result. Recognizing what is at stake, literally the ability to attract and retain qualified faculty to train the next generation of professional nurses because of the ongoing faculty shortage, it is my hope and prayer that grace and forgiveness would flow freely in our departments to bring needed healing to those we work with, those we teach, as well as our profession.
References

1. Clark, C.M. (2013). National study on faculty-to-faculty incivility: Strategies to foster collegiality and civility, Nurse Educator, 38(3), 98-102.
2. Clark, C.M. (2011). Pursuing a culture of civility: An intervention study of one program of nursing, Nurse Educator, 36(3), 98-102.